Tucked away, deep in the forests and fells of North West Lapland, lies Muotka Wilderness Hotel, a hidden gem of a place where families can escape the every day and share incredible experiences high above the Arctic.
This hotel is owned by the Lappalainen family who also have the wonderful Nellim and Inari Wilderness hotels which always sell out with our families. The same excellent standard of guides and warm welcome await our guests at Muotka.
Muotka's surroundings are basically a fun-filled, snow-covered playground for families and our Pick and Mix holiday lets your family select exactly how they want to spend their time here.
With dog sledding, snowmobiling, snowshoeing, cross-country skiing and reindeer safaris available, plus much more, your days will be easy to fill. At night the Northern Lights often frequent this family-friendly hot spot and so there is also a selection of Aurora hunting activities for when darkness has fallen.
The cosy rooms and cabins here also provide families with a great place in which to spend time together during the evenings. You can all gather to discuss the adventures you've shared and the memories you'll be taking home.
---
Image credits: Markku Inkila, Anthony Oberlin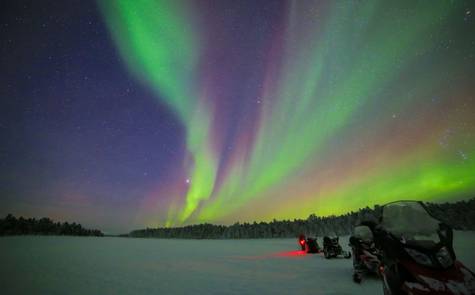 Shared family adventures
There are few greater things than sharing a new experience as a family. Just imagine you all taking to the trails to go dog sledding, laughing at Mum or Dad as they try and get to grips with cross-country skiing or taking a family selfie with a reindeer. They are all possible at Muotka!
The beauty of tailor making a holiday from our Pick and Mix options is that you create your own family's ideal holiday and you can be as active or as leisurely as you like, depending on what suits you. Whilst the activities are incredible, there is also much to be said for simply making a family of snow angels in the woods around the hotel.
Read more
The fells and forests around the lodge provide the backdrop for activities such as dog sledding and snowmobiling (where children tend to ride with the guide in sleighs) as well as ice fishing, reindeer encounters and snowshoe walks. Cross-country skiing is also very popular here and you will find that children tend to be better at it as they are a bit more relaxed and bendy than adults – it's always great fun learning together though.
The minimum age for the activities is 8 years old; simply because this is the age at which we know children can really start making the most of the activities. If, however, your kids are younger, then do let us know as some activities can be tailored to children around the age of 4 or 5.
Regardless of what you fancy, our Travel Experts will be on hand to share their own experiences of Muotka and help you plan the ideal holiday for your family.
Homely hotel rooms and cosy cabins
Muotka provides modern facilities full of charm. The hotel offers rooms and cabin accommodation across the grounds and the central reception and restaurant building. The main building is the hub of life at Muotka and is the meeting point in which families and guests gather to share stories.
All meals are served in the main building and are typically buffet style. The food will often include some local ingredients such as reindeer and fish but there will also be more international options if there are less adventurous diners in your family (please discuss special dietary requirements at the time of booking).
Read more
The hotel offers a selection of hotel rooms across two buildings. They have doubles and twins and we can request adjacent rooms for families. Some of the rooms do have the option for an extra bed too so can become triples. The superior log-built sauna rooms are ideal for families who all wish to be together as they accommodate up to four people.
The accommodation highlight here, in our opinion, is, however, the range of panorama log cabins. Each has a double bed but can also accommodate two children on extra beds. They are a delight as they have their own sauna and wood burner so you can really cosy up in the evenings. They have huge glass windows which gaze out towards the northern skies so you may see the Northern Lights from the comfort of your cabin.
For families who want a unique experience for a night during their stay then the Aurora Kotas are ideal. These glass-roofed structures provide excellent views of the night sky and can sleep four people (two on extra beds). They are a really fun way to spend the night and hopefully, you might even see the Aurora Borealis from the warmth of you kota.