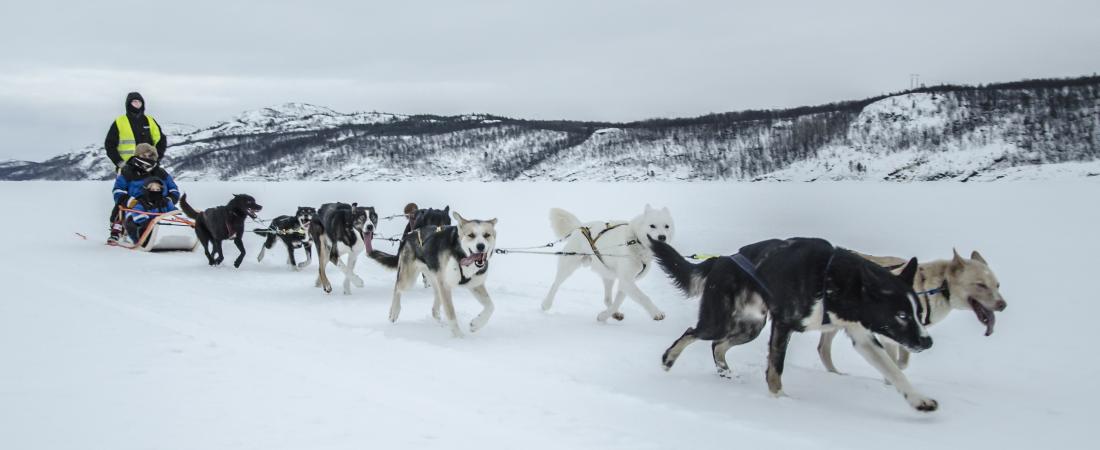 Huskies
Image credits: The Kern Family, Antti Pietikainen
It's a dog's life
When it comes to Lapland, there are few activities which appeal more to families than the chance to enjoy a dog sled safari in this magical winter wonderland. For children and grown-ups alike it is an unforgettable experience and a real holiday highlight.
There is something about the dogs, their furry faces and infectious enthusiasm for everything that cannot help but put a smile on your face. Their delight at hitting the trail is quite clear as you hear their excited barks and howls, long before you set eyes on the dogs as they love nothing more than to dash across the snow.
These dogs have been bred for this way of life and together with their mushers they are an exceptional team with each dog having its own role when pulling the sled; it's fascinating to witness as the dogs know exactly what they are doing.
Dog sledding is a great family activity for those of all ages - for older children who are able to drive the sleds, (age restrictions vary – please see individual trip pages for details), it will no doubt be a great sense of accomplishment, and a great story to tell when they get home. For the little ones who will sit tucked up in the sled, they can enjoy the thrill of watching the beautiful white world go by, watching the dogs' paws pad eagerly on the snow.
To travel by dog sled is sure to make you feel like the explorers of old who used husky sleds to navigate this frozen landscape. They provide an unforgettable family experience for young and old!
About Huskies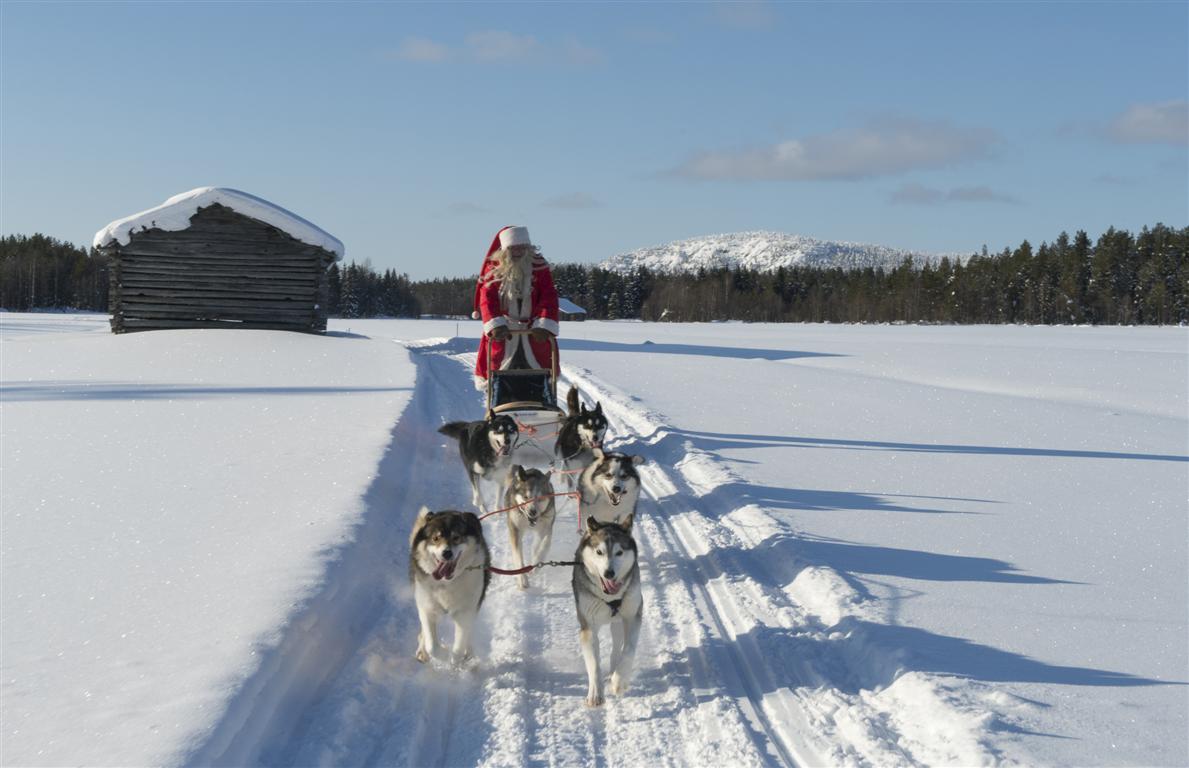 Where can I go to experience a husky safari?
The majority of our snow holidays in Finland, Sweden and Norway will include a dog sled experience and we offer husky safaris of varying durations to suit all families. We have everything from short safaris for little ones to family wilderness adventures and everything in between!
Our Father Christmas holidays, designed for smaller people, include wonderful safaris but typically of a shorter duration – they are, however, still the real deal! Those holidays with more of an activity focus will typically include a safari of around an hour or more.
Read more
It doesn't matter where you are in the North; in Finland, Sweden or Norway, the landscapes are invariably beautiful and the sense of adventure and isolation is only heightened as you cross vast frozen lakes and negotiate the trickier paths that lead through the snowbound forests.
The near-perfect silence is always your companion on any husky safari broken only by steady panting of the dogs, the sound of your sled on the snow and the giggles and laughter of those enjoying this remarkable activity.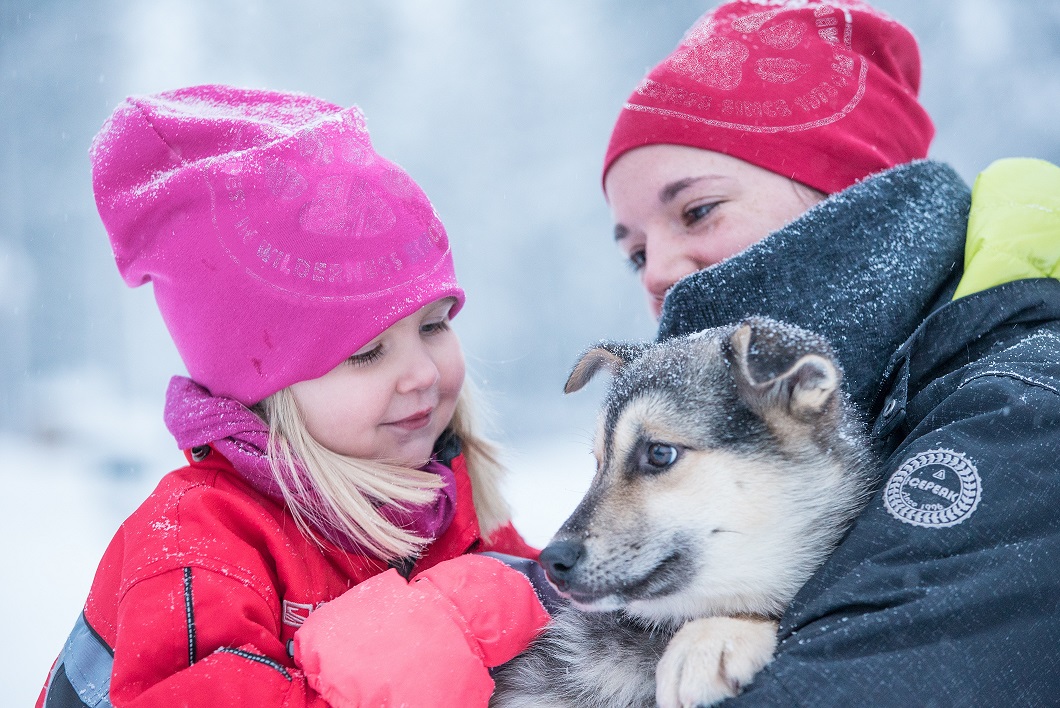 Things you need to know
First and foremost it is important to remember that the dogs are not pets – they are working dogs who live outside with their fellow friends. That's not to say they won't be friendly, indeed if there are puppies you can, of course, expect cuddles, but you need to treat the dogs with respect and caution as you would with all unknown dogs.
On a husky safari how it works is that each sled has a team of 4 to 6 dogs and most sleds accommodate two people – one to stand on the sled controlling the brake and another person sat in the sled.
Read more
You will not have to 'mush' the dogs as such as they will eagerly follow their guide; all you need do is control the brake.
The dogs, especially when in their team formation, can be exceptionally strong. Whilst this means they can pull you easily across the landscape and gather a lot of speed, it can often take you by surprise at first, so you will need to hold on tight and ensure you are ready with the foot brake (a firm two-footed stamp is sometimes required). The mushers will tell you what to do, so make sure you listen carefully to their expert instructions.
As the husky experiences are usually designed for beginners, they are not meant to be too demanding, but for those who are standing on the back of the sleds, a fair amount of balance is required as well as stamina to remain standing in the cold as you travel along.
The trips have varying restrictions on age and height and each musher has their own rules on who they allow to drive the sled and who has to sit, so please check the individual pages or speak to our Travel Experts to determine exactly what your family can do.