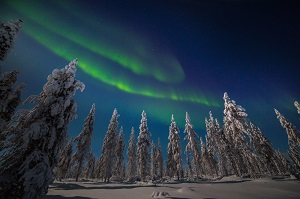 There can be a lot of pressure deciding how you want to celebrate the new year, especially when you have the whole family to think about. That's why we've carefully designed family new year holidays to take the worry away.
During my time with Activities Abroad I have visited Nellim twice.
My first experience at this wonderful place was in September, during the Finnish 'Ruska' – a time when the trees are a palette of orange and gold and the forest floors are carpeted with mushrooms and berries.
My second time was in the depths of winter, a time when the region comes alive and showcases the most incredible winter scenery. The drive here takes you down quiet winding roads, lined only with trees and the odd wooden cabin. Located on the banks of the frozen Lake Inari, Nellim Wilderness Hotel is warmly welcoming, a charming home-from-home set idyllically in the snow which endlessly covers everything. At this time of year, the sun rises just barely over the horizon, keeping daylight hours to a minimum and bathing the region in unique blue polar light.
Any light that there is however reflects off the snow so it is much lighter than you would think!