Parks a plenty
For families, Croatia offers a unique, active and uncommercial take on the traditional 'sun, sea and sand' holiday. Alongside plenty of exciting activities, you will explore and enjoy the historical harbour towns and enticing walled cities during our Croatian family experiences.
Our Croatia family activity breaks are based in a variety of regions. Skradin is an ancient town on the shores of the Krka River. You can holiday in the magnificent area surrounding the Plitvice Lakes or enjoy our special holiday for four- to eight-year-olds on the fun-filled island of Šipan.
These have all been carefully selected for families and feature some of the most stunning and unspoilt national parks in Europe – beautiful natural playgrounds which can all be enjoyed in wonderfully active ways.
Read more
Plitvice Lakes National Park is a UNESCO site which delights families with its numerous water and lakes. Be sure to keep a watch out for some of the wildlife the park is home to, with wandering deer and rare birds to be spotted. A hike here is a spectacular way to explore as you navigate across walkways and bridges.
A great way to get out and about in a new location is by bicycle, travelling over new terrain and enjoying the views as you pedal along – what better way to make the most of the Croatian landscape and sunshine? On our cycling trips in Paklenica National Park, your expedition will take you through the canyons of the park with their high peaks, deep gorges and pine forests, and then out towards the beach for a chance to stop off, cool down and take a paddle.
Krka River National Park is the base for a wonderful day trip on our Skradin trip – here you will strap on your helmet and cycle through the idyllic countryside enjoying a landscape of forests, hills and waterfalls.
Šipan is a lovely island with splendid beaches and outdoor territory – perfect for the little ones! The hidden coves, mysterious underwater world, surrounding deserted islands and rural setting offer a perfect opportunity for fun-filled family activities whilst offering an insight into life in a traditional, sleepy Croatian village.
Photography by Croatian National Tourist Board, Boris Kacan, Ivo Biocina and Ivan Coric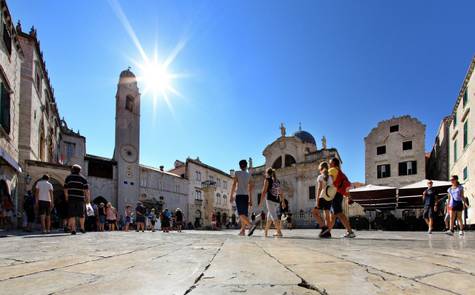 A blend of cultures and a rich heritage
Croatia sits neatly between the Balkans and central Europe, providing a family-friendly destination with an enticing mix of cultures.
The combination of cultures and geographical location has had a brilliant impact on the food of Croatia and on our family trips you can expect to sample an array of tasty delights. Look forward to plenty of Slavic style dishes such as goulash and roasted meats. In coastal areas you can sample fresh seafood, cooked Mediterranean style. Food here is all about sharing, so as well as some delicious cuisine, meal times are all about getting to know your fellow families.
Read more
Croatian history is a rich if complicated one, and you are sure to learn more during your time here. Many of the activities include a taste of history or of the local culture. Our cycling descent to the Gacka valley, which is always a firm favourite on our Plitvice Lakes trip, is a route which takes you through forests, traditional villages and past wooden mills which are dotted delightfully the countryside really helping to provide an understanding about the local way of life.
The town of Skradin is a great base for a week of adventure in an area steeped in history. You can wander the narrow, paved streets and take in the picturesque buildings, as you go from shop to café, savouring the local culture.
Wonderful waterways
As well as its gorgeous National Parks and historical old towns, Croatia has plenty of waterways to explore and enjoy, from scenic coastlines to rapid rivers.
The magnificent canyon of the Zrmanja and Krupa Rivers is one such place where adventures are waiting to be had. On our Plitvice and our Skardin trip you will canoe here, enjoying the thrill of easy rapids and hidden swimming pools as you explore the incredible canyon. The emerald-clear waters of these Croatian Rivers are sure to entice all the family members and it is said to be one of the most scenic places in Europe.
Read more
When it comes to water-based activities, it doesn't get much more exciting than canyon kayaking. On our Plitvice Lakes holiday, your family will take to kayaks in and travel downstream in the steep-sided Upper Mreznica Canyon. Paddling past waterfalls and lush vegetation, your hard work will be rewarded at a relaxing stop off at a waterfall – the perfect spot for a dip!
Another adrenaline filled water experience awaits you on our Skradin holiday as you white-water raft along thrilling rapids with jungle-like forests, caves and waterfalls adding to the adventure – a wonderful family experience.
Our sea kayaking experience is another way to take full advantage of the gorgeous Croatian coastline during our Skradin itinerary. Here you will take to the water armed with a paddle, enjoying paddling along with your family on the sparkling blue waters.
Not that little children have to miss out on sea kayaking. Four- to eight-year-olds can get their first experience of this activity on our Šipan holiday, trying out their skills near a shipwreck. This trip also has many opportunities for beachside swimming!
Credit: Dugi Otok Tourist Board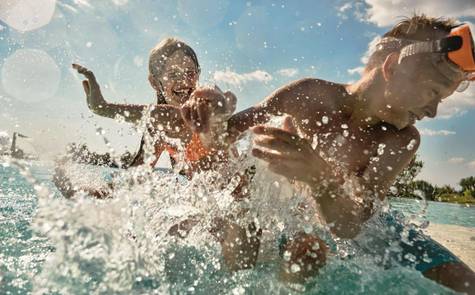 Must see places
Discover our favourite destinations in Croatia.