Though Rovaniemi is the capital of Lapland, it is far different from other major cities you may have visited. That's because you only have to travel a short distance from the modern centre to get the full experience of the Finnish wilderness, complete with wintery forests, frozen lakes and soft, powdery snow.
Rovaniemi, and the nearby Apukka Resort, gives you the best of both worlds. With easy access to the city but away from the bustle, your winter adventure can include all of the best snow-based activities as well as time exploring the Lappish capital.
What's more, as the official hometown of Father Christmas, Rovaniemi offers authentic encounters with the man in red for an extra touch of magic to your Lapland family holiday.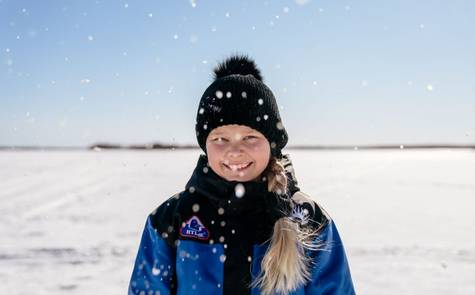 A Winter Wonderland
As soon as the big winter freeze sets in, Rovaniemi enjoys a covering of snow for around 6 months of the year – turning it into the winter wonderland setting you would expect from Father Christmas' hometown.
For those who really want to get into the Christmas spirit, take the family just 8km north of the city and enter Santa Claus Village, where you'll get to meet the man himself as well as some of his trusty elves and reindeer!
Rovaniemi is also known as the gateway to the Arctic and has different opportunities to cross the Arctic Circle line for an official start to your winter adventure.
To enjoy the powdery snow to its full potential, head out of the city into the surrounding wilderness. Here, you'll find family favourites such as dog sledding, snowmobiling, cross-country skiing and snowshoeing. What's more, as night falls, moving away from the city lights gives you a better chance of ticking the Northern Lights off your family bucket list.
The Apukka Resort
Just 15 minutes away but situated far from the city lights, the Apukka Resort is all about creating your home away from home. The stylish holiday homes or apartments give the family plenty of space to relax in after a day exploring the Arctic and you're only a short walk away from the hotel's restaurant.
Most of the brilliant snow-based activities take place onsite or just a short walk away. That means you won't have to travel far to experience unbelievable activities such as dog sledding, reindeer sleigh rides and snowmobiling. What's more, you can rent cross-country skis, snowshoes and fat bikes right from the hotel reception.
With frozen lakes, snow-capped trees and deep snow, you will have plenty of Finnish wilderness to explore in this family-friendly resort.
---
Image Credits: Apukka Resort, Visit Rovaniemi