Saariselka – where to begin?
Saariselka is Europe's most northerly ski resort and is situated high above the Arctic in North East Finland. The village itself has much to offer families; with skiing and a host of winter activities on the doorstep. This location is ideal for any budding Aurora hunting family, as it is smack in the middle of the Aurora Zone.
Whilst there is a wealth of accommodation options in the town, we want our families to experience something different when they travel. Our guests stay in the Aurora Cabins at the Northern Lights Village. These cabins have been specifically designed with partially glazed roofs so you can be warmly tucked up in bed, but still have views of the night sky and, with a little luck, the Northern Lights.
The village is located around 500 metres from the resort centre and so you are within walking distance of all of the amenities in town, but are sheltered from significant light pollution. All of the key winter activities you'd expect in the Arctic are available on a weekly programme and our pick and mix holiday lets you choose your family's favourites. This is a destination which offers families such a range of experiences that the children simply won't know where to start when they talk to their friends back at school.
Photography by Markku Inkila, Inari-Saariselkä Tourism Ltd, Visit Finland; Vastavalo and Soili Jussila, Visit Finland and Robert Smith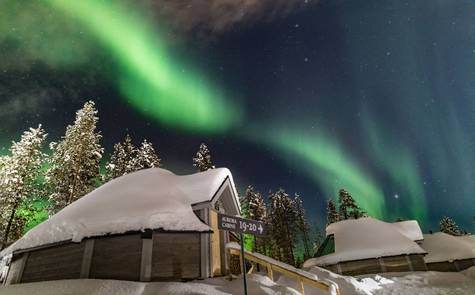 The Northern Lights Village
The village is home to 80 specially designed Aurora Cabins, which are modelled on traditional wooden kotas (teepees).
The cabins contain a double/twin bed set up under the glass roofed section of the cabin. There is also a sofa bed which can sleep either one older child or two young kids. If your children are older and you want additional space then we can reserve two adjacent cabins.
Read more
Meals are served in the on-site restaurant from where you can watch the local reindeer herd go about their business through the windows whilst you eat.
All of the activities begin on site so there is no time wasted on long transfers. There's also an on-site reindeer paddock where you can enjoy meeting Lapland's most iconic inhabitants as well as dog sledding and snowmobiling options. Of course, there is also a sledging slope for some good old fashioned fun in the snow.
An Aurora pick and mix
We appreciate that flexibility for families can be paramount, as we know it's not easy to keep everyone happy. Our pick and mix holiday format means that you can plan a holiday to suit everybody, young and old. You can tailor your time and include as many or as few activities as you like. You can add in time to hit the downhill ski slopes or perhaps try Finland's longest toboggan run which descends 1.8km from the top of one of the resort's two main fells.
Read more
All of the activities we offer, start and finish at the Northern Lights Village so you don't waste any time on transfers. The evenings can be filled with an array of Northern Lights activities and each one includes photography tuition. If you don't have a camera capable of taking images of the lights then you can either rent one locally or you can purchase the guides' images so you don't miss out on the ultimate souvenir. There can be few better family portraits than those taken beneath the stunning Aurora Borealis.
For daytime fun there are dog sled safaris of varying lengths, snowmobile adventures, snowshoeing and reindeer encounters to enjoy alongside the ski slopes and the shops and sights of Saariselka.
This is a well rounded family destination which is sure to create long lasting memories which you and your family will discuss for many a year.