The Finns' hidden secret
The small ski village of Vuokatti is a well-kept secret in Finland. The landscape is very similar to Lapland but you get the benefit of slightly longer daylight hours as you are a little further south here. This is where the Finns come on holiday when heading north from Helsinki as it's relatively close but you still get the Narnia-like setting everyone craves in the winter. It's also comparatively undiscovered meaning it provides exceptional experiences for your family, but you can still avoid the crowds.
Vuokatti is known for its snow-covered forests and fells. The area is also home to numerous lakes that freeze over during the winter months, creating vast open spaces in between clusters of trees. These characteristics create a playground for some fantastic family activities. The lakes offer a broad and open space for magnificent ice fishing and snowmobiling adventures, while enchanting forests allow for exciting snowshoe excursions, husky sleigh rides and Northern Lights hunts. Our seven night holiday includes them all, but also provides you with some free time in order to take advantage of the nearby ski slopes or additional activities should you wish to do so.
Hotel Vuokatti is ideally situated on the shores of frozen Lake Nuasjärvi. Watching the snow drift onto the lake from the hotel restaurant is a great way to begin each day, and will certainly have the kids raring to get outside. Hosting a variety of cosy rooms and elegant family apartments, the hotel offers an extremely comfortable and stylish base for families.
---
Image credits: Vuokatti Safaris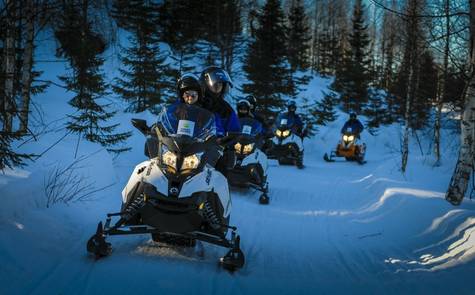 All the activities
The activity possibilities in this snow-clad village are endless and husky safaris, reindeer sleigh rides, snowshoeing and snowmobiling are all on offer here. Northern Lights sightings are extremely common In Vuokatti too, despite it being slightly further south and so there are Aurora excursions available too.
Despite the hotel's remote setting, you will not find yourselves struggling for things to do in your free time. Only 500 metres from the hotel lies Vuokatti's 13 ski slopes. There is a free ski bus that runs three times daily for those families who want to make the most of the snow and do some independent skiing.
Read more
The ski bus also goes to Holiday Club Katinkulta, which you can take to make use of your one-time free entry to the fantastic pool and spa facilities. There is also an Angry Birds themed play area, a bowling alley and a selection of restaurants, should you want to make a full day out of your visit. Further details of the ski bus can be given at the hotel – just ask a member of staff!
The range of activities means you'll enjoy varying levels of action during your trip. Whizzing over the thick snow on snowmobiles makes for a thrilling way of exploring Vuokatti's scenery, whilst snowshoeing is a much more tranquil means of getting out and about. Treading over thick layers of snow in extremely remote areas of land, you can admire the sheer silence of the snow-drenched landscape. The snow muffles almost every sound (aside from the kids' laughter and some informative chatter from your expert guide of course!).
Vuokatti also provides an array of animal-focused activities, so your family can make some furry friends during your stay here! Husky, reindeer and horse-pulled sleigh rides are all on the agenda, with some time to pet and learn about the animals as well.
Saunas and Sledges
Vuokatti's elegant yet cosy décor creates the ideal base for those moments when you want to relax after a busy day in the snow. Communal armchairs are dotted around the hotel, and the restaurant boasts a fantastic vista out onto the lake if you want to sit and enjoy some hot drinks with a view.
The array of room types cater perfectly to varying family sizes, as family rooms, interconnected rooms and apartments are all available. All rooms come with the essentials, including an iron, ironing board and a hairdryer. Free Wi-Fi is also available throughout the hotel, so you can Facetime relatives to keep them up to date with all of your adventures.
Read more
There is a fully-equipped gym that is free for all guests to use should Mum or Dad fancy a workout during the trip. There are also three communal hotel saunas, and it is guaranteed that at least one of these will be heated each day. This is a great way to unwind and stay warm after a day of snow-filled fun.
The hotel also provides toboggans outside the main hotel building, so feel free to make use of these. Once the kids see the amazing sledging potential, we don't think they will be able to resist!