Tromsø's Best-Kept Secret
Often described as Tromsø's 'best-kept secret', the island of Sommarøy's white sandy beaches, striking coastal landscape and vibrant community make it a perfect place for a family winter break. Its location means it can be accessed from Tromsø with ease, therefore combining the two destinations is simple. Although the beaches and coastline may make it sound primarily like a summer destination, Sommarøy's situation in Northern Norway means that, during winter, everywhere is covered in thick snow. We are sure you can imagine the magical atmosphere that this creates for the kids, particularly as the misty fjords and mountains pose as a dreamy, fairytale-esque backdrop!
Despite its remote location, Sommarøy is by no means a sleepy place and is one of the busiest fishing villages in the county of Troms. The hustle and bustle generate an exciting community atmosphere, and the locals are renowned for being extremely friendly. This means that they will welcome your family with open arms as you visit a café for a creamy hot chocolate, or admire the local handicrafts.
Of course, key attractions for families are the white sandy beaches which are reminiscent of the Caribbean (but, of course, with a frosty twist!). You can wrap up warm and trundle along the sand with your family, or head out for an adventure, admiring the views as you go. It is a special experience to see children simply enjoying nature, rather than focusing on their phone or their homework.
---
Photography by Gaute Bruvik/Nordnorge.Com, Tromso Adventure, Sommarøy Arctic Hotel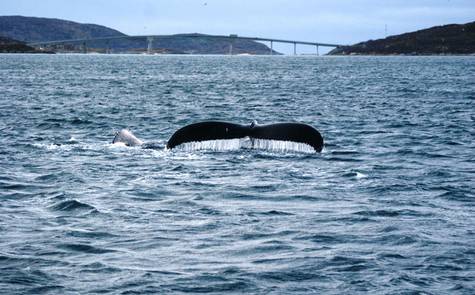 Northern Lights, Whales and Other Wildlife
Sommarøy's coastal location means it is an ideal base for exciting wildlife ventures. Particularly as, year after year, between the months of November and mid-late January, the island sees a myriad of whales migrating through the surrounding waters. These include orca, humpback and fin whales, and although a sighting is not guaranteed, there are few destinations in the area that provide such good viewing potential.
Read more
As soon as the kids pull on their life jackets, they will feel like true arctic explorers as they board the MS Skaaskjær. After a full safety briefing, you all head out onto the water to the best whale-spotting points and keep your eyes on the clear blue waters in the hope that you spot something! When you do, it is a truly magnificent experience, as the whales breach the surface and bask just beneath it.
If you visit the area outside of peak whale season, this excursion will still go ahead, as there is an array of other marine life to admire out on the Atlantic waters surrounding Sommarøy. The likes of white-tailed eagles circle the area and dive into the water for a catch, and seals lollop and laze there too.
Sommarøy's isolated location and vast sea views also make it a very popular Northern Lights destination. There is nothing more special than watching the dazzling and magnificent Northern Lights with the people that you love the most, and therefore we make sure to include a Northern Lights-dedicated activity here in Sommarøy.
As there is so little light pollution, there is no need to travel far on a hunt to find the Aurora here. Your excursion will simply be you and a guide, taking a short walk to a prime Aurora-viewpoint, where you will cosy up around a campfire and await an appearance. In the meantime, your guide will prepare hot drinks for everyone so that you can keep warm and local tales will be told.
Nevermind the Tele, Look at that View!
One excellent bonus of visiting Sommarøy is the hotel that we use as your base.
You will stay in Sommarøy Arctic Hotel's apartments or fishermen cottages (depending on the family size). Highly conveniently, each come with their own kitchenette, lounge area and large bedrooms, providing an extremely comfortable stay.
Read more
All meals are included here, so mum and dad won't have to worry about the cooking! That being said, all of the facilities are there should you need them.
Here in Sommarøy, ocean vistas are practically inescapable, and if there was ever something to drag the kids' eyes away from a screen it's a view like this one! So, if your family wants a cosy night in during your trip, you can play games and enjoy each other's company in your own apartment with complete privacy, and frosty sea views as your back-drop. Make sure to keep a look out for the Northern Lights too!
---
Image credit: Sommarøy Arctic Hotel