The Northernmost ....Well Almost Everything
Activities, Northern Lights, an exciting atmosphere and that city buzz are just a few fantastic characteristics of Tromsø, which has been coined the 'Paris of the North'. Home to the northernmost...well, almost everything, including botanical garden, university and aquarium, Tromsø sits 350km north of the Arctic Circle, and is an astonishingly vibrant city considering its rather remote location.
Tromsø is a cultural hub, meaning that there is so much for families to do in their free time. Restaurants serving delicious, locally produced cuisine are plentiful. Cafés are also in abundance, which is perfect for those moments when the kids want to warm up with a hot chocolate or indulge in a freshly baked pastry.
Something that is particularly unusual about Tromsø is its astonishing surrounding landscape. Sloping mountains and striking fjords create superb glacial scenery, offering a magical backdrop for your family's holiday. We always recommend Tromsø's cable car as a brilliant family outing, should you find the time, as there is no other way to enjoy panoramic views of this special city. Plus, once you reach the upper station, you can take a mouth-watering meal in Fjellstua restaurant while you continue to admire the views.
---
Photography by Konrad Konieczny/Nordnorge.Com, Bård Løken/Visitnorway.com, Shigeru Ohki/Nordnorge.Com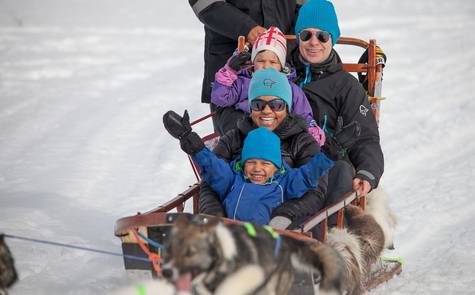 Huskies, Reindeer and Bearded Seals
Having such diverse features makes Tromsø simply ideal for a family activity holiday. As the city is so varied, cultural and historical, we offer a private city tour for your family so that you can experience the wonders of the area with some guidance and insight. We also include a visit to Polaria, the world's northernmost aquarium, as children absolutely adore this interesting and entertaining experience. Here, visitors can learn about the icy blue waters of the Nordic North, and get up close to the adorable bearded seals through viewing bubbles in the tank wall.
Read more
Since Tromsø is famed for its Northern Lights viewing, it would be foolish of us not to include Northern Lights-dedicated activities in our family package. Not only this, but we have combined them with husky and reindeer experiences so that the kids don't get impatient while you all keep a look-out for the dazzling Aurora to make an appearance!
The Aurora husky farm visit acts as a fantastic introduction to your trip, as you are provided with a splendid dinner and the chance to meet and play with the adorable dogs. All the while, a warming open fire will crackle and glow in the background, offering a cosy ambience and a chance to warm up while you hope for a Northern Lights display. You will also visit a husky farm for a thrilling 15km sleigh-ride and more time with your new furry friends to take some photos and play during the days to come.
During the Northern Lights reindeer experience, you will glide beneath the dark Arctic sky in a snug sleigh, before enjoying a meal around a campfire with your Sámi guide. Here, you can huddle up together whilst you listen to Sámi tales, possibly some traditional joiking (folk singing), and hopefully with the Northern Lights swirling above you.
Come and get your Waffles!
Tromsø sees many visitors, and with this comes the need for some fantastic hotels to accommodate them. We work with our local partner in Tromsø to place our families in two of the best, making use of two hotels named Clarion Collection Hotel Aurora and Clarion Hotel The Edge.
An important part of any family holiday is location, particularly when visiting somewhere such as Tromsø which is begging to be explored! Therefore, we have specifically chosen two hotels that are based by Tromsø's bustling harbour, making it easy for you to leave your hotel and already be amongst the best sights. Not only can you then enjoy the harbour views, but places such as Tromsø Cathedral, Northern Norway Art Museum and many shops and restaurants are just around the corner.
Read more
One of the many draws to both hotels is that they each have relaxation and sauna facilities that are available to all. At Hotel Aurora, there is a bubbling, outdoor, rooftop hot tub, so you can enjoy the views and feel the frosty air on your face as you sink into the water to stay warm. The kids are welcome to use the facilities too.
Hotel Aurora also offers guests an additional treat when they stay here, or should I say sweet treat, as delicious waffles are on offer every afternoon. Taking a moment to sit and enjoy the sweet, fluffy goodness of these golden delights is a great way to reward yourself after a busy morning.
With varying room types to suit every family, cosy yet modern decors and all necessary facilities, you are promised an extremely comfortable stay here in Tromsø.