The town of Skradin sits in a unique and stunning area, located at the gateway to the Krka National Park, around 60 kilometres from the spectacular Croatian city of Split.
The location offers families a wonderful mix of landscapes, taking you from breathtaking rivers, gorges and mountains to the glistening Adriatic Sea. It is this varying landscape that makes way for a plethora of activities to suit the whole family - from kayaking to hiking, cycling to white water rafting!
The historical town of Skradin has a wonderful riverside location and is situated close to the famous Skradinski Buk waterfall, which is an idyllic spot for bathing in the river waters.
This perfect location has easy access to both coast and country, attracting a multitude of families wishing to soak up the Croatian sun and experience some memorable activities.
Scroll to learn more about this wonderful destination.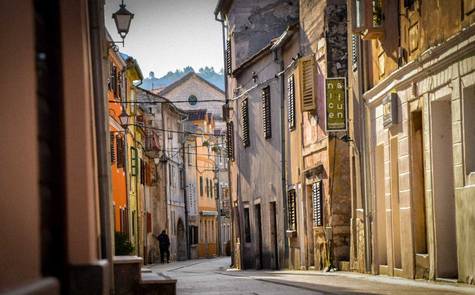 Soak up the culture...
The town of Skradin is a small, historical and architectural gem, reflected in its narrow, paved streets and centuries-old buildings. As well as the activities on offer, the town's charm and fantastic history dating back over 2000 years makes it a destination the whole family will enjoy.
There is the Medieval Fortress of Turina, the impressive Tower Clock and the Bribirska Glavica, known as the Croatian City of Troy, for just some of the cultural delights on offer. Pair this with the impressive surrounding natural beauty and you will soon see why Bill Gates named Skradin as his favourite vacation place!
The town is also a gastronomic delight, as local restaurants take pride in their traditional cuisine. Get ready for a serving of mouth-watering seafood dishes, flavoursome Mediterranean recipes and delightful Istrian wines.
Activity bliss
What makes Skradin so ideal for families is the fact that it is a perfect base for some thrilling experiences. The crystal waters at the mouth of the Krka River are perfect for venturing out onto the Adriatic in a sea kayak, and Paklenica National Park, only an hour away, is home to awe-inspiring, dramatic rock formations which are great for exploring on a hike.
You can spend the day cycling through the nearby Krka River National Park, admiring the phenomenal set of seven waterfalls and a trip to Cetina River will have you white-water rafting over the fast, foaming waters. You'll also get to experience the waters of the Zrmanja and Krupa Rivers as you canoe through the emerald waters of two of the most beautiful rivers in Europe. To top all of this off, Skradin even has its own beach, which is perfect for a swim in the refreshing waters of the Krka.