Colonial towns
For families, a visit to Ecuador is like going on an old world adventure, exploring an exciting tropical landscape of old towns, volcanoes, remote villages, cloud forests and diverse jungle. It is a country overflowing with wildlife and natural spectacles along with a mishmash of cultures, food and activities which are sure to delight all family members as they enjoy this remarkable country together. Known too for its friendly and warm hearted people, you are also sure to be given a warm welcome.
During our Ecuador holiday you will spend some time in Quito, one of the highest capital cities in the world at 2850 metres above sea level! Once you have acclimatised to these heights (which, as you could expect, come with dazzling views of the surrounding volcanoes and down towards the Amazon Basin) there will be plenty of time to explore the city.
Its highlight is its old town, a UNESCO heritage site where families can walk the winding cobbled streets, enjoying the traditional Ecuadorian culture and marvelling at the Spanish colonial architectural treasures that line the streets here. Perhaps you will want to sample some of the delicious local food – expect plenty of tasty plantain and peanut based dishes – or buy hand-crafted wonders from the overflowing market stalls.
During your Ecuador family adventure you will also stop at Baños, a lively town that acts as the gateway to your time in the Amazon. As well as lots to explore in the colonial style town, you will get to explore via cable car as you enjoy the avenue of the waterfalls – Baños is home to over 60 waterfalls which are a truly marvellous sight!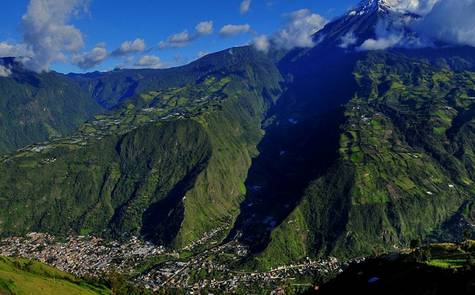 Volcanoes and cloud forests
Taking you outside of the towns, our trips are also all about enjoying the natural wonders of this South American country, in a family friendly and active way.
Ecuador is home to part of the impressive Andes chain as well as numerous volcanoes, many of which are located in Llanganates National Park which you will get the chance to visit. Here, as well as looking out for local wandering llamas and alpacas you will participate in a thrilling mountain bike descent – an excellent way to appreciate the volcanic terrain! Legend tells that the park is also home to a huge hidden stash of gold, silver and platinum which an Incan general hid here centuries ago and has yet to be discovered.
Read more
Cotopaxi – one of the world's highest and most active volcanoes, is another volcano you will explore on your travels, this time via high ropes course and you will also see Ruminahui volcano, keeping an eye out for the beautiful wild horses that roam here.
More relaxing natural wonders can be enjoyed in Ecuador's famed cloud forests, characterised by low level cloud cover. Being in these tropical forests will not only make you feel like you're an otherworldly explorer but they are also home to tempting hot springs – perfect for relaxing in after a day's expeditions.
Amazing Amazon
Along with its volcanic wonders and colonial old towns, Ecuador is also one of the nine countries that the Amazon rainforest stretches across. Whilst it only contains a small section, an excursion here will allow your family to experience some of the jungle highlights including the dense tree canopies and hidden lagoons. Of course, we want you to experience more during your time here and include rafting down the Jatunyacu River. Here you will have an excellent time navigating the roller coaster waves and rapids as well as seeking out hidden pools and gazing upon the jungle scenery from your river vantage point.
Read more
During your time in the Amazon basin you will also meet members of the Kichwa Amazonian community who will give an introduction to their centuries old way of life, teaching you about life in the rainforest as well as discussing the medicinal uses of plants and their practice of planting and harvesting banana, coffee and cocoa.
This is a chance to learn more about rare living history and a fascinating way of life on the other side of the world.
---
Image Credits: Neotropic Expeditions