The Azores – Lava Lands and Swimming with Dolphins
Add to Shortlist
Remove from Shortlist
Adult price from
£1,195pp
All prices include: transfers, accommodation, meals and guided activities; all as listed.
HOLIDAY TYPE:
Small Group
Overview
Key facts
Duration:

7 nights

Key Facts:

Monday to Monday departures throughout July & August and Saturday to Saturday in April, May & October.

Suitable for:

Children aged 8 years and over

Suitable for:

Ages 8 and above (younger children may join the holiday, but may not be able to participate in all the activities). Please see terms for details
Download Holiday Overview
Download Trip Notes
What's included?
Transfers: all transfers included
Accommodation: 7 nights in Hotel São Miguel Park with the option to upgrade to Marina Atlântico
Meals: 7 breakfasts, 5 lunches, 2 dinners
The following activities are included in the holiday: Sete Cidades Adventure Tour, whale watching, Vila Franca do Campo visit*, thematic tour to Furnas, swimming with dolphins, minibus tour to Fogo and canyoning (the order of activities is subject to change)
Fully qualified guides and instructors during activities
* If you are travelling outside 15th June to 15th September you will visit the Oficina Museu instead
---
Lose yourself in nature, activities, and culture in the Azores with this brilliant seven-night active family summer getaway, based in the city of Ponta Delgada on Sao Miguel Island.
You will begin with an adventure tour to the Sete Cidades Lake, kayaking on its crater lake and mountain biking in the nearby area. There will be an amazing whale-watching tour over the Atlantic waters, as well as lagoon-snorkelling* at the Vila Franca Islet. Continuing with wildlife activities, an undisputed highlight of this holiday has to be swimming with dolphins in their ocean habitat – an unforgettable experience in every sense of the term!
There will be a chance for you to get acquainted with the island's volcanic side at Terra Nostra Botanical Garden, where you will bathe in a hot spring. At Furnas, you can taste a traditional cozido stew, cooked using natural steam from the ground. This mix of regional vegetables and juicy meats is only one Azorean delicacy you will be able to sample.
The outdoor reserves and territories of the island will be yours to explore during this trip. Try your hand at canyoning in Ribeira dos Caldeiraes Natural Park, walk over the black sands of Santa Barbara Beach, and take a dip at the Caldeira Velha waterfall. There is also the opportunity to look around the mysterious Gruta do Carvao, the longest of the lava tunnels on Sao Miguel.
Your hotel for the duration of this exciting family activity holiday will be Sao Miguel Park: superb four-star accommodation close to the centre of Ponta Delgada, with indoor and outdoor pools, and splendid spa facilities. You can also upgrade to the Marina Atlantico hotel, which sits right on the waterfront and offers brilliant views over the marina.
*Snorkelling equipment is not provided, so we recommend bringing your own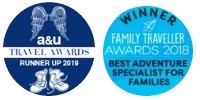 Image credits: Futurismo Azores Adventure, Azoresphotos. visit Azores (Pedro Madruga)
Agenda
Day

1

Arrival and Welcome

Welcome to the Azores! You and the family will be picked up and transferred in no time to your hotel. Check in and settle in for the night.

Included Meals:

None

Day

2

Sete Cidades Adventure Tour and Welcome Dinner

Eat a substantial breakfast before an exciting, full-day outing: the Sete Cidades Adventure Tour! This takes you to the Western side of São Miguel Island to the famed Lagoa das Sete Cidades or Lake of the Seven Cities, and along the way, you will stop at some viewpoints. The deep crater lake is divided by a bridge, virtually forming two lakes that showcase different colours and are known as the Blue and Green Lakes – a wonderful environment where everyone will spend the day mountain biking and kayaking. There will be a picnic lunch break along the way.

In the evening, you will be treated to a lovely welcome dinner with a spread of Azorean specialties. Our friendly guide will be on hand to answer any questions about the rest of your holiday.

Included Meals:

Breakfast, Lunch, Dinner

Day

3

Whale-Watching and Vila Franca do Campo OR Oficina Museu and Pineapple Farm Visit

After breakfast, you can look forward to a fabulous whale-watching tour to fill up the morning. There aren't many places which are as highly regarded for this pastime as the Azores – the islands have even had visits from National Geographic and the BBC!

Expert biologists will give you full briefings on safety measures and responsible whale watching before you are taken out over the water by Rigid Inflatable Boat (RIB) (restrictions may apply for pregnant women and people with lower back problems). Depending on luck and the time of year, there are over 25 different whale and Dolphin species that you might spot, as well as other marine creatures. Life vests and waterproofs are provided.

If you are travelling between 15th June to 15th September, you will be transported in a converted fishing boat to the beautiful islet of Vila Franca: a green ring around a crater lagoon. You and the kids can go swimming in this marvellous natural reserve. Snorkelling equipment is not provided, so we recommend bringing your own. Species to look for include rainbow wrasses and Guinea-fowl puffers.

If you are travelling outside 15th June to 15th September, or if weather conditions are not favourable, you will be driven to Capelas for a visit to Oficina Museu – here you can lose yourselves in the history of the Azores, learning how the culture of the island and local lifestyles changed in the middle of the twentieth century. Take the chance to observe artisans making typical Azorean handicrafts. The day will finish with a trip to a pineapple farm on São Miguel. Did you know that it takes two years for an Azorean pineapple to reach the dinner table?

Included Meals:

Breakfast, Lunch

Day

4

Gruta Do Carvao, Minibus Tour to Fogo and Santa Barbara Beach

This day's activities transport you to different parts of São Miguel Island. Tuck into breakfast before being taken to Gruta do Carvao. At almost two kilometres long, this is the longest tunnel of lava on the island – perfect for budding adventurers! After exploring the lava tunnel, you will visit Santa Barbara Beach. Here you can relax on its black sands and take a swim in the ocean.

After lunch, the afternoon brings many more natural sights with a journey to Lagoa do Fogo, the 'Lagoon of Fire'. You will all be blown away by the splendour of this natural reserve area. A drive to Caldeira Velha waterfall follows, with the chance to bathe in its warm, iron-rich waters. There will also be a look around Caldeiras and its billowing fumaroles.

Included Meals:

Breakfast, Lunch

Day

5

Canyoning

Following breakfast, you will start your last full day in The Azores with a session of canyoning in the Ribeira dos Caldeirões Natural Park. After a walk up the trail, you'll reach the starting point before sliding and abseiling in a region full of forests.

Included Meals:

Breakfast, Lunch

Day

6

Swimming with Dolphins and Free Afternoon

After breakfast, it's back to the Atlantic blue this morning for a holiday highlight: swimming with dolphins in the Atlantic Ocean! Having built up the excitement on Day 3 watching these spectacular marine creatures from a boat, you'll now be able to get even closer. Before getting in the RIB boat (restrictions may apply for pregnant women and people with lower back problems), an in-depth briefing will be given on responsible swimming with dolphins in their natural habitat and how to use the equipment provided. You'll then, hopefully, get to join these highly intelligent animals in their element. You probably won't get as close to the dolphins as you would in a marine park, but seeing these amazing animals in their natural environment is an unforgettable experience. Please note that you will need to bring your own snorkels and masks.

The afternoon will be left free for you and your family to spend as you wish. You can stay back at the harbour and grab lunch at a local restaurant before being transferred back to São Miguel Park, or take a transfer back straight away. If the morning's swimming hasn't been enough, why not have a session in one of the hotel pools? You might also like to leave the hotel behind and explore the streets of Ponta Delgada.

Included Meals:

Breakfast

Day

7

Thematic Tour to Furnas and Farewell Dinner

Today is a volcanic culture day! Once you have had breakfast, your first stop will be at one of the oldest remaining tea plantation and factory in Europe, the Gorreana Tea Estates. In addition to looking around, you will also get to sample their produce. It is a must for tea-loving families.

From there, it is onto Caldeiras das Furnas with its fumaroles and mineral water springs; they say the water has a different flavour in each one! On the way, you will stop at a viewpoint.

For lunch, you will all be served cozido, a traditional Portuguese stew with a succulent selection of meats slow-cooked with locally-produced vegetables. Keeping with the geothermal theme of the day, it will be cooked using only steam from the surrounding earth.

Once you have all feasted, everyone will be taken to the famous Terra Nostra Botanical Garden, which showcases a rich variety of native and foreign plants; it is a very pretty place to stroll around. Finishing off this visit is the opportunity to get into a naturally heated pool, with water rich in iron. At a temperature of between 35°C to 40°C, it makes for a super-relaxing experience.

Returning to Ponta Delgada, you will make a couple of stop-offs to take in awesome coastal views; cameras at the ready!

A delicious farewell dinner at a local restaurant marks your last night in the Azores.

Included Meals:

Breakfast, Lunch, Dinner

Day

8

Departure

Eat your last breakfast at the hotel before being transferred to the airport for your flight home.

Included Meals:

Breakfast
---
Accommodation
Included in price
Hotel São Miguel Park

Nights:

1-7

Not far from the centre of Ponta Delgada, this four-star hotel is close to the city's pretty Botanical Gardens and only ten minutes from the airport. Its fully-furnished rooms are perfect for families, with warm colours and splendid vistas of the surroundings. Parents will love the excellent on-site health club, and everyone will enjoy the exquisite Azorean buffets on offer at the hotel restaurant.

Hotel facilities

Enjoy a mix of swimming locations with the hotel's indoor and outdoor pools
Lounge about in the Jacuzzi, replenish your energy in the spa or book a calming massage
Gym-lovers won't have to worry about missing workouts while away thanks to the Fitness Centre
Why not sample tasty Azorean specialities in the restaurant, or try a colourful cocktail from the bar?

Room options

Triple Room

Each triple room contains a twin or double bed with an extra bed. The bathroom comes with a shower, toilet, and hairdryer. Keep cool with air-conditioning and chilled drinks from the minibar. Other facilities include internet access, a cable television, a telephone, and a safe-box.

Twin/Double Room

These rooms contain a twin or double bed, as well as a bathroom with a shower, toilet, and hairdryer. There is a telephone, cable television, and internet access. The rooms are air-conditioned and come with a minibar and safe box.

Read more about this accommodation

Read less about this accommodation
---
Other options
Marina Atlântico

The 4-star Marina Atlântico sits right on the waterfront for exceptional views over the marina and out to sea.

With easy access to the airport and within walking distance of shopping, restaurants and bars, this hotel is the perfect combination of convenience and style. The spacious en-suite rooms are great for families and some come with spectacular sea views. Make sure you keep an eye on the water for the marine wildlife that could be playing in it!

Read more about this accommodation

Sample the local food, stroll along the streets and admire the architecture. The painted basaltic rock can, at first, feel imposing but it gives the town an almost colonial feel. Even the pavements are painted! The central location makes it easy to explore São Miguel but there's also plenty to enjoy within the family-friendly hotel. Relax in the Escuna restaurant or Palhobote bar area and make use of the onsite pool and gym facilities.

Hotel facilities

Enjoy the indoor pool as well as the fitness and spa area
Dine in the excellent on-site restaurant
Explore the nearby marina and outdoor pool by crossing the impressive white steel suspension bridge

Room options

Double room/Twin room

These rooms come with either a double or twin bed and many are sea-facing and you can enjoy the views from the balcony. All rooms come equipped with a private bathroom, air conditioning, telephone, cable TV, WiFi, radio, minibar, safe box and hairdryer.

Triple room

There are also triple rooms available. This will either be a double bed with an extra single bed or three single beds, depending on availability. The triple rooms all have views over the town.

---

Please contact our Travel Experts for a quotation.

---

Image credits: Hotel Marina Atlantico
Dates & Prices
We include more, no hidden costs
On each of our holidays you will see a clear outline of exactly what's included in the price of your holiday. We never use 'headline' or 'lead-in' prices like so many tour operators, as we prefer to include as much as we can, rather than see our clients incur considerable additional costs in our destinations.
Local festival: the festivities of the Holy Christ of Miracles (Santo Cristo dos Milagres) are taking place from the 12th until the 19th of May 2023, so some places will be a bit busier than normal.
Pricing note: the prices listed below are based on a family of four sharing a double room at the São Miguel Park Hotel. Other sharing options are available including one adult sharing with one child, please ask our Travel Experts for a quote.
Dates
Departure dates between
Sat 21 Oct 2023
to Sat 28 Oct 2023

Adult price (per person):

£1195.00
to £1295.00

Child (age 8 - 12):

£715.00
to £795.00
Enquire
Departures: this trip runs from Monday to Monday throughout May, July and August and Saturday to Saturday in April and October.
Next season's dates and prices
Departure dates between
Sat 30 Mar 2024
to Sat 13 Apr 2024

Adult price (per person):

£1335.00
to £1495.00

Child (age 8 - 12):

£805.00
to £905.00
Enquire
Sat 25 May 2024
to Sat 31 Aug 2024

Adult price (per person):

£1450.00
to £1565.00

Child (age 8 - 12):

£805.00
to £905.00
Enquire
Sat 19 Oct 2024
to Sat 26 Oct 2024

Adult price (per person):

£1335.00
to £1495.00

Child (age 8 - 12):

£805.00
to £905.00
Enquire
Terms
For our full booking terms and conditions please click here
The Specifics
Holiday group size (approximate)
Minimum 4 to maximum 21 people approximately
Please note: if you choose to travel by catamaran during the whale watching, the maximum group size is 76 people.
Group Size
We always try to provide an approximation of the group size you can expect to be with for the duration of each of our holidays. It may be that you are joined by others for parts of your holiday (such as transfers and particular activities) but the above number reflects those you can normally expect to be with from beginning to end. If group size is something which is particularly important to you, please speak to our Travel Experts and they can suggest the best holidays for you.
Tailor-made holiday group sizes will vary for all activities as will the group size for any additional activities you book.
Minimum numbers required for a holiday to operate
Some of our holidays require a minimum number of participants to operate (as listed in the 'Group Size' section). If your holiday departure has not yet reached the minimum number, you will be told at the time of booking. In the unlikely event that your chosen date is not guaranteed by nine weeks before your scheduled departure date, we will contact you to discuss the available options as per our booking conditions.
Minimum and maximum age
The minimum age for this holiday can be found in the 'Key Facts' section of the holiday overview.
Younger family members may be able to participate but may not be able to take part in all activities. Please contact one of our Travel Experts if you have any questions.
Itinerary amendments
The order of activities listed in this agenda is provided for guidance only, your final and detailed itinerary will be provided either with your final travel documents (which are uploaded into your online account around a week prior to departure) or upon arrival.
Medical History and Advice
We want our holidays to be accessible as they can be and will do our best to accommodate any special requests and requirements where possible. We have a wide range of holidays and destinations and so our travel experts will help find the best holiday for you.
In order to give us the best possible chance to do this we ask that if you or any member of your party has any medical condition or disability which may affect your holiday or has any special requirements, that you tell us at the time of enquiry or booking. You must also promptly advise us if any medical condition or disability which may affect your holiday develops after your booking has been confirmed. You may need to provide a doctor's note and proof of insurance in some cases as the health and safety of our clients is absolutely paramount.
In providing this information you are allowing us to work with our expert local partners to ensure that your whole party can enjoy the holiday. By letting us know in advance we can discreetly work with you to adapt any part of the holiday which may potentially be challenging. Being able to prepare for this in advance makes an incredible difference to what we can offer and minimises any impact on your party and the rest of the group.
Unfortunately, if you choose not to share this information with us in advance then it may limit some or all of the itinerary you have booked, and we cannot be held accountable for any additional costs or missed activities resulting from this.
It is vitally important that you advise us prior to departure of any medical or dietary condition relating to any member of your party so that we may notify our local staff before you arrive. We recommend only drinking bottled water from bottles with unbroken seals and be vigilant about the use of ice in drinks and ice cream.
Insurance
Insurance is not included in your holiday, but it is a pre-requisite to travelling with us. You will need to ensure that you have cover for all the activities that you will be participating in during your holiday.
It is extremely important that you take out a suitable travel insurance policy at the time of booking. Plans do sometimes change, and you will need this policy should you need to cancel your holiday.
If you are struggling to find a suitable policy then details of our preferred provider, who will cover you for all the activities we offer, can be found on our website by clicking here. Please note that this policy is available to EU residents under the age of 75 only.
The UK Foreign Office Advice
Our clients' safety is at the centre of everything we do, and our operations team continually assesses and monitors the destinations we feature. We carry out thorough risk assessments and work closely with all of our suppliers to continually follow best practice. For up to date travel advice the UK government offers its Travel Aware website as well as the advice detailed below.
The Foreign and Commonwealth Office Advice
We receive all updates from the Foreign and Commonwealth Office (FCO) with regards to travel advice and we always ensure that we follow this advice in our operations. The FCO issues travel advisories for countries based on a very wide range of factors. They may provide notification about things as simple as a football match and crowds, or they may go so far as to advise against all travel to a region. We ask all our clients to refer to the relevant Travel Advice by Country for the destinations they are visiting in order to make an informed decision on the safety of the destination based on the details provided. It also provides vital information regarding entry requirements, embassy information, local laws and customs as well as specific safety and health. Guests should take responsibility for keeping themselves up to date with this advice. Please also ensure that, if you are transiting through another country, you have read the advice and meet the entry requirements for that destination too.
The FCO travel advice is applicable to British Passport Holders. Most governments will issue their own travel advice for a region and, if you are not a UK resident then you can find some helpful links below:
Australian Department of Foreign Affairs and Trade http://www.smartraveller.gov.au/
New Zealand Ministry of Foreign Affairs and Trade http://www.safetravel.govt.nz/
Canadian Consular Affairs Bureau http://voyage.gc.ca/
The U.S. Bureau of Consular Affairs http://travel.state.gov/content/travel/english.html
If the FCO deems that there is an unacceptable level of risk for UK citizens then, together with the government, they may issue an advisory against all travel to a region or country. If such an advisory is published, then we will act accordingly, and this may require the cancellation, curtailment or amendment of a holiday itinerary. These decisions are made on the basis of ensuring our clients' safety and will affect all clients on the holiday, regardless of their nationality.
If one of our local experts suggests an amendment due to a situation which develops locally then we may also take the decision to amend an itinerary appropriately.
If we have to cancel your holiday prior to departure you will be offered the option of an alternative trip (where any price difference will either be refunded to or covered by you) or a full refund of the monies paid.
If we have to curtail a holiday, then you will be refunded for any costs for the elements we have been unable to deliver, where we have been able to secure a refund from our suppliers. If we must reroute a holiday, then any basis for refund is determined on a case by case basis and dependent on whether the central holiday experience was provided or not.
Booking activities locally
Additional activities can be booked locally in almost all our destinations. However, as per our booking conditions, we cannot be held responsible for any injury or loss incurred through participation in activities which are booked at your destination outside of our holiday itinerary (see our 'Terms and Conditions' for further details).
When arranging any such activity please always ensure that safety is your primary concern.
In some of our destinations, you can borrow or hire equipment for use in your free time. You do so entirely at your own risk. You must ensure that you are correctly prepared, have the necessary equipment and knowledge (maps, etc.) and ensure that where applicable, you follow marked routes. We recommend discussing your plans with the local teams who will be able to advise on the most suitable options for you.
Always let the reception/guide know where you are planning to go and take a torch and mobile phone (with the hotel/guide's phone number stored). It is also a good idea to leave your contact number and the time you expect to return to the hotel should the hotel need to contact you.
Flight schedule changes and connecting transportation
On your documentation, we will confirm your flight schedule. Sometimes the flight number, routing and timings might change prior to your departure. If the change is classed as a significant change then we will contact you to discuss this. Please see our booking conditions for details.
Flight schedule changes can impact on your pre and post-holiday travel arrangements if these have been booked separately to your holiday. We strongly recommend that you do not book transport (such as trains or transfers), car parking or non-connecting flights to the departure point for your holiday until you have received your final confirmed travel times when your final travel documents are issued. We are not responsible for the effect of any schedule change on your pre or post travel arrangements. We strongly recommend that you do not purchase non-flexible or non-refundable tickets to avoid cancellation and penalty charges.
Booking your own flights cancellation disclaimer
If you have chosen to book your own flights, then you will need to wait until we confirm to you that the holiday departure has met the minimum numbers required to run (if applicable to your chosen holiday). Once the holiday is guaranteed to run, you will be informed and you can then make your arrangements.
If transfers are included in your holiday, please ensure that any potential flights will be met by our standard transfers (speak to one of our Travel Experts for advice) otherwise private transfer supplements may be applicable. Once your flights are booked, please send us a copy of your detailed flight itinerary.
Please be aware that most tickets are non-refundable in the case of cancellation. For this reason, we strongly advise you check the rules of the ticket and check the limitations of your cancellation insurance before booking. We cannot be held liable, in the unlikely eventuality that we should be forced to cancel or amend your trip, for losses incurred relating to any flight booking you have made.
The Azores - additional trip dossier information
You will be spending a lot of time in and on the water. To make your holiday more comfortable we recommend the following:
- Take waterproof shoes or 'aqua' shoes
- We suggest you take seasickness tablets with you, in case a member of your family becomes seasick (especially on the zodiacs)
- The water in some of the natural pools is rich in iron and may discolour your swimwear so we do not recommend wearing newly purchased swimwear!
Additional Cancellation & Payment Terms and Conditions
Please note that the following cancellation terms supersede those mentioned in section 7 of our general booking terms and conditions.
- More than 84 days prior to departure - Loss of deposit (including the full cost of flights or other services where paid at the time of booking)
- 83 to 43 days prior to departure - 50%
- 42 to 31 days prior to departure – 75%
- 30 or less days - 100%
Terms and Conditions
Our full booking terms and conditions can be found on our website: https://www.activitiesabroad.com/booking-conditions
Reviews
Traveller Reviews
Too Many Lovely Moments

08 October 2022

by Dr Rogerson and Family

There were too many lovely moments for any of them to be the most memorable. We really loved our tour leader Eulalia, who stood out and made a real difference to us having a great family holiday. The service was brilliant and the family travel experts were knowledgeable and helpful, and we had all of the pre-travel documents that we needed. We were on a one-family tour which worked best for…
Read more us.
Read less

Whale Watching was Extra-Special

07 October 2022

by The Cubberley Family

Whale watching was the most memorable part of the holiday for us and our favourite activity that we took part in. Our room and the service were brilliant. We would like to thank Maria who made this a special holiday. The Family Travel Experts were extremely knowledgeable and answered any questions that we had. We had everything we needed before we travelled and had more than enough…
Read more information to enable us to have a fantastic family holiday.
Read less

Amazing holiday, perfect for us.

19 October 2019

by The Tebbs Family

Amazing holiday, perfect for us. There were 3 parts to our holiday that made it the best ever. Firstly the itiniery, country and activities. Secondly our fantastic guide Rodrigo - I cannot speak highly enough of his manner, kindness, knowledge and willingness to go the extra mile. We met some of his family too which was a great help during a medical incident and lovely for the children. The third…
Read more was the fantatsic family we met - like minded so the trip attracted us both and we had a ball and will no doubt stay firm friends.
Read less

Couldn't fault the experience in any way.

17 August 2019

by The Miles-Kingston Family

It was exceptionally well thought out and organised. The local Futurismo reps (Eulalia Pacheco and Marisa Camara) where exceptionally good - knowledgeable, organised, excellent with the kids, very good fun and looked after us well. The weather and sea conditions caused them to have to rearrange most activities on a daily basis but still they managed to get all planned activities in and the whole…
Read more group were extremely relieved to get the whale watching and dolphin swimming activities which had been cancelled twice, in on the last (very long!) day due to Eulalia's efforts.
Read less

The Azores exceeded all my expectations

10 August 2019

by The Hughes Family

An action packed week. The pace of the week was spot on with a nice mixture of activity and more relaxing excursions. Our guides (Eulalia and Maria Ines) were brilliant - nothing was too much trouble, they knew the itinerary inside out and ensured every single activity took place without a single hitch. Please pass on my personal thanks to them and their bosses at Futurismo - I was very impressed…
Read more with their professionalism and commitment to excellent customer service. Accommodation and breakfasts at the hotel were very good. - I thought it was a first rate trip. I'm a very experienced traveller and can safely say this was a very professionally organised trip. I'd recommend this trip to anyone looking for an active holiday with family. The Azores exceeded all my expectations - Sao Miguel is a fantastic and beautiful place....I just hope it can retain its relatively unspoilt and laid back character. Keep doing what you're doing! As mentioned, I found Futurismo to be a really first class local operator and was also impressed by their commitment to ecologically aware tourism....they clearly care about their environmental impact and protecting the ecosystem of the Azores.
Read less

Another fantastic holiday

27 July 2019

by The Button Family

Another fantastic holiday with Activities Abroad that was full of unique and memorable experiences. The local guides, Eulalia and Rodrigo, were brilliant. Great fun, very knowledgeable, and very well organised. The excellent planning and organisation by the team made it a stress free holiday.

I couldn't fault any aspect of the experience

20 July 2019

by The Hadoke Family

The whole experience was fantastic. Activities Abroad were informed, efficient and prompt with communications. It made organising the holiday straightforward and reassuring. I couldn't fault any aspect of the experience; the holiday was a great mix of activities with the right amount of rest/ free time included. The Local Rep was excellent - friendly, informed, efficient, and relaxed. I have never…
Read more been on an organised holiday like this before; it made the trip far more interesting, relaxing and stimulating than would have been possible if we had gone under our own steam. Our (teenage) children stated that it is the best holiday they have been on. I would like to highlight our Rep, Maria Inez Pavao, she was superb, combining a friendly style with excellent knowledge about the Islands and marine life. When the marine activities had to be re-arranged because of the weather she did this with no fuss in a way that meant we were able to complete everything within the week with no stress or rush. She is a credit to you and to Futurisma. We had a great time. Thank you.
Read less

The whale watching and swimming with dolphins were amazing.

13 July 2019

by The Inman Family

We have been on (and really enjoyed) 4 previous Activities Abroad holidays and we all agreed this was the best. Eulalia our guide was excellent. She was fun, informative thoughtful and gave us the opportunity to fully appreciate this beautiful island. The Futurismo activity guides were knowledgeable and obviously cared about the wildlife and environment. The whale watching and swimming with…
Read more dolphins were amazing. Thecanyoning company was excellent. The equipment was the best we've ever had when canyoning and the guides were lovely. Swimming with dolphins was a unique and unbelievably thrilling experience. Every aspect from the boat ride out to the sight of such huge pods to actually being in the water with the dolphins was amazing.
Read less

From the moment we met our guide, Eulalia, to the point we said goodbye was first class

13 July 2019

by The Paterson Family

This was a wonderful holiday, very well organised with an excellent guide - Eulalia. She did everything she possibly could have to make our trip enjoyable. As a local, she was able to provide an insight into the Island that was utterly charming. From the moment we met our guide, Eulalia, to the point we said goodbye was first class. Thank you all. Also the advise re hotels I was given was very…
Read more accurate and I appreciate this very much.
Read less

Swimming with dolphins - an amazing experience

06 July 2019

by The Scott Family

Overall, an excellent trip. Futurismo were fantastic in how they operated, and the tour guide herself (Maria) was superb. I've marked the Accommodation section as "Good" rather than "Excellent", because while the hotel and rooms were nice, the brochure showed upgraded rooms with balconies. Not a significant issue for us, and didn't detract from the overall experience. Swimming with dolphins - an…
Read more amazing experience, and we were lucky enough to be able to do it in such a small group that we had a lot of time with them. I'll repeat - well done to the Futurismo team out in Sao Miguel..
Read less

Canyonning at then end was a great send off

25 May 2019

by The Tomlinson Family

Eulalia was an absolute gem of a guide, so friendly and knowledgeable, she made every day enjoyable. . Rodrigo her colleague equally so. Canyonning at then end was a great send off. We followed it by all going to the Ribiera Grande beach after, without out guides. May be worth adding that to the intinery.

Lava Lands and Swimming with Dolphins

25 May 2019

by The Colclough Family

Great holiday. The two reps were outstanding, they made a big difference, they were fabulous.

Our best family holiday, ever!

25 May 2019

by The Richardson Family

We booked this holiday with Activities Abroad hoping for the best as it was our first experience of a group holiday. We need not have had any qualms at all - the two other families were absolutely lovely and our hosts were fabulous. All our needs were taken care of and all the activities were well structured and appropriate for all members of our family (we went with our two boys aged…
Read more 12 & 8). The hotel was clean and the food was good. We absolutely loved our week in the Azores and our experience with Activities Abroad - so much so in fact that we have booked a winter holiday with them for next year! Highly recommended.
Read less

We will do this again for sure

25 August 2018

by Besh & Jaiden Nijhar-Brown

It was fantastic - my son and I had an amazing time! We will do this again for sure - thank you very much!

It was easily the best holiday we have been on

25 August 2018

by The Stubbles Family

My only disappointment with the holiday was that no whales turned up when I went on the whale watching trip. We saw plenty of common dolphins but no whales. However, I can't blame activities abroad for that fact that the Whales didn't make a showing that day, just bad luck. Otherwise, the holiday was absolutely excellent. It's difficult to choose just one as they were all enjoyable, swimming with…
Read more dolphins was awesome but if I had to pick one only, it would be the canyoning on the last day. Both of my teenage sons and myself thoroughly enjoyed the holiday. It was easily the best holiday we have been on. our guides were exceptional, Maria Inez and Eulalia (not sure if I spelled the names correctly). They looked after us all and were very professional, providing excellent service. I can't speak highly enough of them.
Read less

The activity guides and tour hosts for the week were excellent.

25 August 2018

by The Haley Family

The activity guides and tour hosts for the week were excellent. They had a great manner, making for a for a relaxed but organized holiday. They were very knowledgeable but if they didn't know something they would go away and find the answer and come back to you.

I must say that we enjoyed every activity.

18 August 2018

by The Franklin Family

I would like to say that our guides Carina and Suyzanna were brilliant very knowledgeable, patience and great company. They gave 110% and are a credit to the company.

Both my daughters have already asked to go back

18 August 2018

by The Graham Family

Swimming with majestic Dolphins, an experience never to forget. But I also felt that every day was magical, particularly the day we spent at Sete Ciudades, gorgeous scenery, and canyoning which WAS a massive thrill! Both my daughters have already asked to go back, which is a testament to their enjoyment, and ours. We will definitely look to book another holiday with AA as it was so fun-filled and…
Read more hassle-free, just what every parent needs! Our group and guides were also a fantastic bunch of people making it a perfect recipe for success.
Read less

All the activities were brilliant

04 August 2018

by The Sutton Family

All the activities were brilliant, and felt even better for 2 reasons - the other 2 families on our trip were great fun, and secondly, our 2 guides were fantastic. Carina and Syuzanna were excellent and I suggest you always request them for your groups!

Very friendly, efficient, knowledgeable and really enabled us to make the most of the holiday.

28 July 2018

by The Wynde Family

The administration went very smoothly. The accommodation was good though the double room was on the small side. Maria, our guide, was excellent - very friendly, efficient, knowledgeable and really enabled us to make the most of the holiday.

We had a brilliant holiday and a real adventure

28 July 2018

by The Bandeira Freire Family

Canyoning and dolphin swimming were two great highlights. The two guides: Karina and Paulo were absolute stars.

The Azores

19 August 2017

by Jane Rivers

The dolphin watching was a unique experience. All the activities were great to do and try - some for the first time. The holiday was well organised and our guide Paulo could not have been nicer.

This was a fantastic holiday which was enjoyed by every member of our family.

05 August 2017

by The Wickham Family

Booking with Activities Abroad meant that everything was taken care of and we made the most of every minute of the holiday. We enjoyed every activity and the Azores were truly beautiful. Our activity guides were absolutely brilliant, they ensured they everyone was happy and safe. Triin was exceptional, everyone was sad to say goodbye to her at the end of the holiday. We loved the dolphin swimming,…
Read more the canyoning, the hot pool in the sea. We saw lots of dolphins including a tiny baby - the baby was less than an arms distance away from me at one point - wonderful! The canyoning brought everyone together as a group and most of us braved all the jumps - so glad we did this activity. The activity reps were fantastic on the boats with the smaller kids.
Read less

Our guides were excellent

29 July 2017

by The Shields Family

We had a lovely week and thoroughly enjoyed all the activities. We did enjoy the canyoning, which was made even more special by the excellence of the guides, Paulo and Bruno. They were particularly brilliant with my 6-year-old, who was very nervous at the start, but laughing and loving it by the end. Our guides were excellent, Maria was particularly knowledgeable and nothing was too much…
Read more trouble.
Read less

Amazing Azores!

22 July 2017

by The Surtees Family

We had a wonderful holiday in the Azores - what a beautiful place! Every trip was executed flawlessly (despite a bit of rain!). Our guides Maria and Roduerigo were amazing - so helpful and kind always going the extra mile for everyone, Maria's knowledge of her country is unrivalled! The very best days we had were, without a doubt, the canyoning and whale/dolphin watching - the kids loved every…
Read more minute!
Read less

We'll never do an all-inclusive, sit around the pool again.

22 July 2017

by The Mooney Family

We loved the canyoning. Great scenery, location. Something different than we have never done before. Challenging, thrilling, fun! 10/10. The day at the lake; cycling and kayaking which was preceded by a dip in the boiling hot coastal "lava" pool was a very close second 9.5/10. The hosts for our tour, Maria and Rodrigo, were just brilliant.... especially Maria. Nothing was too much trouble for her.…
Read more Her passion and knowledge for the island made the holiday so much more relevant and interesting. I thought we were going on an activity holiday but came back feeling like I'd been on the best Geography Field trip ever. My kids, 19, 14 and 14 all agreed that this was a brilliant holiday....we'll never do an all-inclusive, sit around the pool again.
Read less

The scenery was spectacular

27 August 2016

by The Allen Family

Sandy was a very knowledgeable and overall a fantastic guide. I loved the whale watching and swimming with dolphins (and so did the kids). My daughter's favourite activity was the canyoning. The scenery in the Azores was spectacular.

We loved it

20 August 2016

by The Limbrick Family

Absolutely lovely guides, Albert and Sandy. Most enjoyable activity: Canyoning. We all loved it. Also great guides, especially Theresa who was very kind and calm.

The guides were absolutely excellent

13 August 2016

by Helen Scott

The guides were absolutely excellent, especially Maria who made our holiday so informative and enjoyable. We loved the whale watching and canyoning, but all if it was excellent. An excellent holiday, though there was only the two of us we were made to feel very welcome.

We had a very special holiday.

13 August 2016

by The Badger Family

I cannot praise Maria and her team enough. We had a very special holiday. Most enjoyable activity: Canyoning and swimming with dolphins. Tea plantation was also fascinating. Dolphins we were lucky with. The other family with us were great fun and we saw common and bottlenose dolphins and a loggerhead turtle at a distance from the boat. Canyoning: I had been a little nervous about but I absolutely…
Read more loved it. My youngest also liked canyoning the best. We were very well looked after. Hotel great. Well organised - info good provided before and during. Coach driver Daniel very patient and safe.
Read less

Thanks for arranging a great holiday.

13 August 2016

by The Tutt Family & the Forrester Family

As we are nearing the end of our holiday I just wanted to drop you a quick note to say how much we have enjoyed it. The activities were really well organised and the Azores is an amazing place with plenty to keep the whole family entertained. We are having such a wonderful time thanks in no small part to our guide, Sandy, who has been quite outstanding and is a real credit to Activities Abroad.…
Read more She is exceptionally knowledgeable about the Azores (well everything actually), good natured and humorous. She is also adaptable, having had to go out of her way to drive to an animal rescue centre to drop off an abandoned kitten that my daughter had found. I speak for the whole family when I say we feel lucky to have had Sandy for the whole week.
Read less

An experience we will never forget

06 August 2016

by The Harraghy Family

Swimming with dolphins was amazing and extremely well managed by the skipper on our boat. An experience we will never forget.

Amazing experiences

30 July 2016

by The Roper Family

Whale watching, swimming with dolphins, snorkelling - great fun, amazing experiences to enjoy and share. Tour guides were absolutely fantastic, particularly Maria, nothing was too much trouble.

Difficult to improve

30 July 2016

by The Curry Family

Canyoning was a surprising hit amongst our family and we were particularly impressed with the ability of the activity guides to cater for a wide range of abilities. Whale watching came a close second, as we were fortunate with the weather conditions and the knowledge and skills of all those involved in the team. The holiday manages to combine activities to please adults and children alike and…
Read more gives a great introduction to the wonderful Azores. It would be difficult to improve, as changing anything would mean missing out on something!
Read less

A really great holiday.

30 July 2016

by The Barr Family

This was a really great holiday. Our guide Inez was very knowledgeable, very helpful and very passionate about the island.

Simply amazing

23 July 2016

by The Dunn Family

This holiday was simply amazing. The partner company in the Azores, were extremely professional and their staff very personable. Their knowledge was fantastic and their enthusiasm contagious. We were looked after by Sandy and Albert and couldn't have asked for more from a guide. All equipment used was of a professional standard and we never once questioned our safety even though we were at times…
Read more doing things we'd never done before. As a family, we were blown away by the opportunity to swim with wild dolphins and even swam with a Hammerhead shark! The ethos and methods used ensure that the wild animals remain wild and their natural behaviour are not affected. It was an honour to be in the water with these creatures and our guide Albert worked very hard to find them for us whilst keeping a safe distance. If you want to visit the most beautiful part of this planet and feel truly alive, then this is the place for you.
Read less

A fabulous holiday

23 July 2016

by The Smith Family

I want to express my thanks to all of you for giving us such a wonderful trip to remember. The smile on my daughters face as she emerged from swimming with the dolphins will last a lifetime. My son and I would especially like to thank you for ensuring the gluten free options it really allowed us to enjoy the holiday without problems. The guides were exceptional, friendly, caring, fun and…
Read more informative and a true asset to the company. The exceptional organisation, trips and equipment showed the companies attention to detail; a fabulous holiday - glowing recommendations to friends. Will definitely be looking at more of your adventures can't wait to see where you may take us next time.
Read less
---
Gallery
Photos (12)
Videos (2)