Whale watching on holiday in Madeira
There are few better ways to create lasting family memories than by going whale watching during a holiday in Madeira. Having explored the impressive volcanic landscape, complete your visit by getting out onto the surrounding waters of the Atlantic Ocean and go on the lookout for the variety of marine animals found here.
With over 20 different species, you and your family will have a very good chance of seeing a wave from a tail, a splash from a blowhole or even a spectacular breaching display during your whale watching day out in Madeira.
What's more, due to the depth of the water, you could see a whale as close as 5km away from the shore!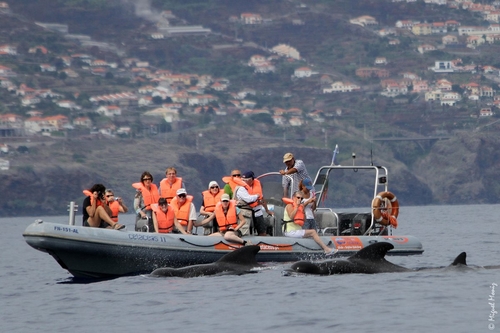 When is the best time to see whales in Madeira?
There are resident and migratory species of whales found in Madeira, which means you can go whale watching year-round. However, it's said the best time is between April and September/October as typically, there are more whales around at this time.
That's why our holiday to Madeira complete with a whale watching trip takes place between these months, to give you the best chance of seeing these majestic animals with your family.
Rest assured, there is no best time of the day to see whales. Our boat trips will operate in either the morning or afternoon depending on weather and sea conditions.
Which whale species can be seen in Madeira?
There are many different species you could see during whale watching on holiday in Madeira. Some of the most commonly sighted are sperm whales and short-finned pilot whales. You could even see beaked whales, which are rare in other parts of the world but can be seen in Madeira.
There's also fin, sei and Bryde's whales as well as humpback, minke and false killer whales. Don't worry about doing your research beforehand though as you'll have a marine biologist with you to help you identify which whales you are seeing!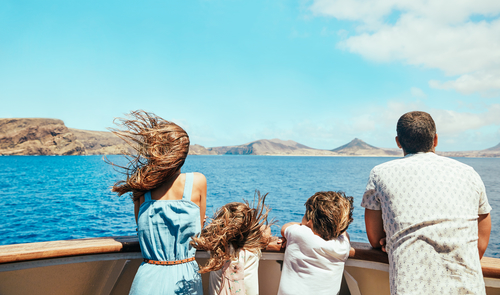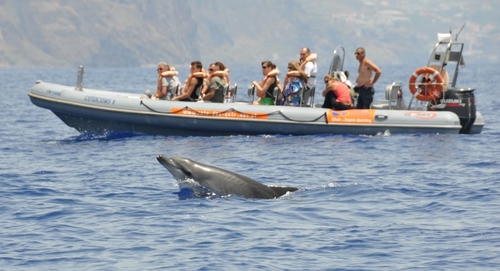 What to expect during whale watching on holiday in Madeira
You will usually travel on a Rigid Inflatable Boat (RIB) which makes for an adventurous start as you power across the water to reach your aquatic friends. Make sure you look back to admire the beautiful coastline as you speed away from it. There may be an option for a catamaran instead but you will need to enquire about this with one of our Family Travel Experts at the time of booking.
We recommend you bring your camera so you have more than just memories of this fantastic trip to look back on. Then, all you have to do is keep your eyes peeled for the amazing marine life swimming all around.
It really is breath-taking to witness these majestic animals swimming freely in their natural habitat. Though you can't swim alongside the whales, we do offer a wild dolphin swimming experience to really complete your family holiday in Madeira.
Your whale watching experience in Madeira with Activities Abroad
With over 16 years of experience in family travel and having visited all of our destinations ourselves, we're passionate about helping other families experience a holiday of a lifetime.
We believe that family holidays should be centred on enjoying bucket list moments together, not separating into kids' clubs and adult-only areas. Nothing compares to seeing the look on your children's faces as they experience a once-in-a-lifetime activity in an unbelievable destination, and whale watching is just one of these moments.
Working alongside local partners, we ensure your holiday is authentic and that you're in safe hands. We're also happy to discuss our own experiences in these destinations because we've been, we loved it, so will you!
Call our Family Travel Experts today on 01670 613 908 or click here to search our holidays.
---
Image credit: Miguel Moniz And Visit Madeira, Rota Dos Cetaceos, Rui Vieira and Madeira Promotional Bureau