Snowmobiling
Image credits: Ville Heimonen, Hotel Gulo Gulo and Kuusamo
A thrilling way to explore
When it comes to exploring a snowy wilderness, travelling by snowmobile is certainly one of the most exciting ways to do this!
The whole of Lapland is covered in marked snowmobile trails which form the basis of the winter transport network in Lapland. These machines are a wonderful way to cover ground in the snow covered months and are exceptionally exciting; offering families the chance to see a great deal more of their new surroundings and the opportunity to explore further afield.
The popularity of snowmobiles in the north is huge and you will see families heading out on weekends to meet with friends or simply enjoy an outing in the wilds. They aren't only ridden for fun, but are also important in keeping communities connected in the depths of winter.
For visitors to Lapland snowmobiling is a key experience and for families the chance to enjoy this activity is one that we highly recommend.
About Snowmobiling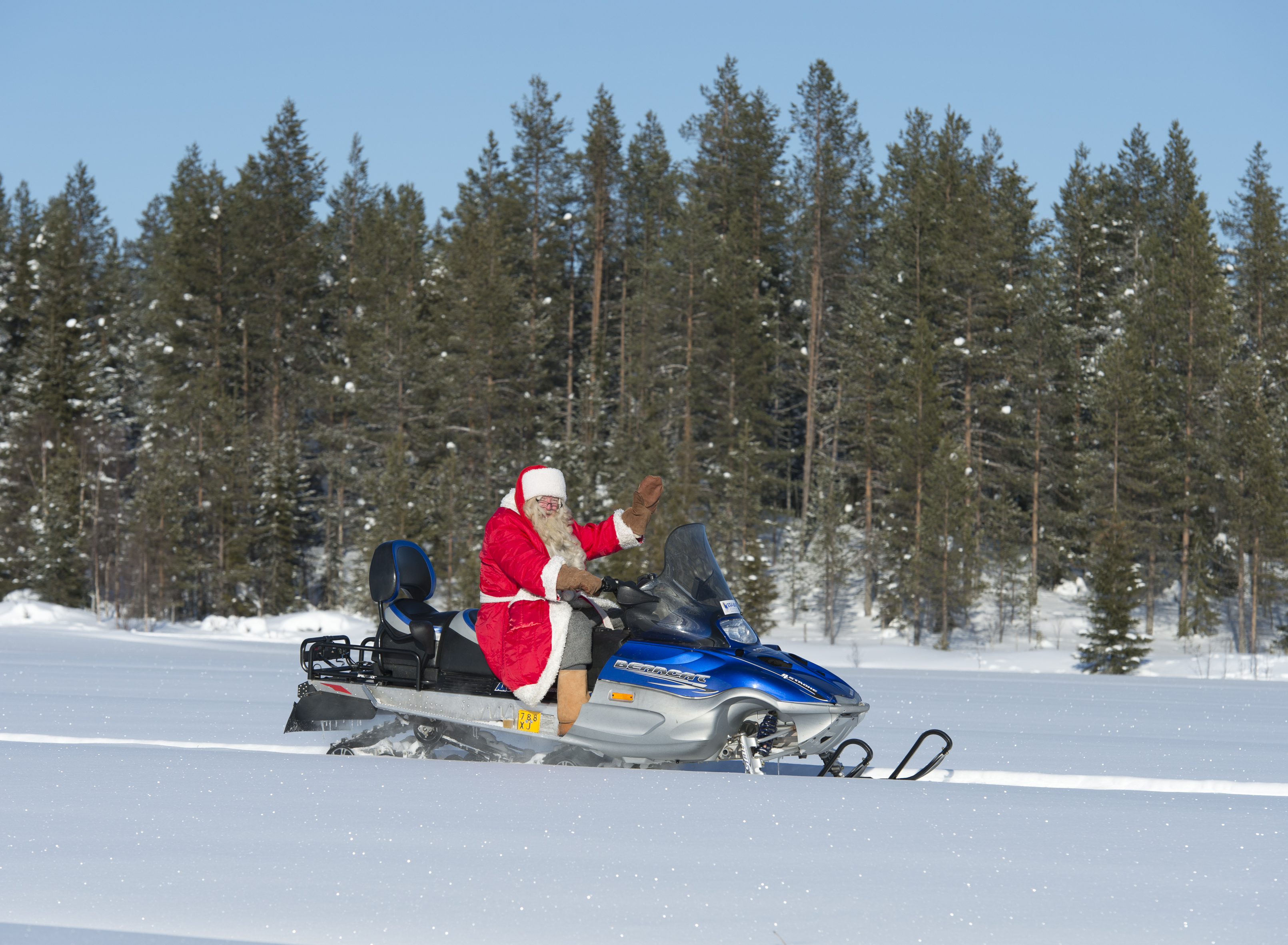 Where can I go to experience snowmobiling?
Snowmobiling is included in most of our trips whether it is a daytime activity or a nocturnal pursuit to seek out the Northern Lights.
On some trips, such as our Nellim family trip, a snowmobiling activity is included as a full day excursion, allowing you to cover as much of this beautiful landscape as possible.
You will have the opportunity to see the fell and frozen lake scenery, as well as the added bonus of a tasty campfire lunch break.
Read more
Other trips use snowmobiling to get to a location or activity that can't be reached in other ways. This is the case with our Menesjarvi trip where you will snowmobile out to a vast frozen lake to try out a spot of ice fishing.
If you're travelling with younger children, then trips such as those in Ranua or Kuusamo are perfect for you, as they include snowmobile-pulled sleigh activities which offer a shared experience for all the family at a slower pace.
Snowmobiles are also very helpful when it comes to searching for the Northern Lights and on trips such as our Brandon Lodge experience, you will travel via snowmobile pulled sled to a nearby remote location form which you can keep a watchful eye on the sky. Using a snowmobile in this way offers the mobility to hopefully outrun any local cloud cover.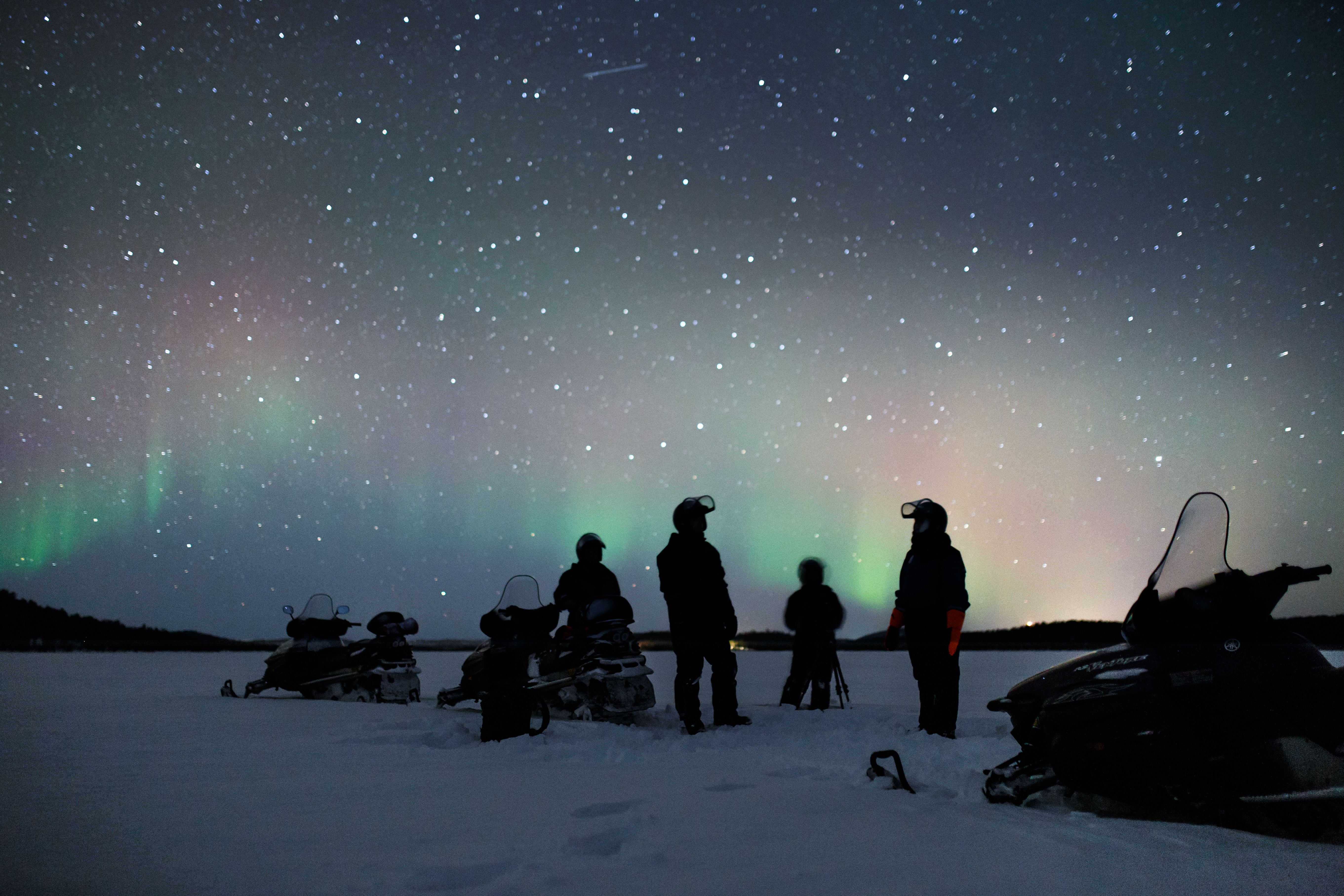 Things you need to know
In order to drive a snowmobile you need to be over 18 years old and hold a full driving license. Children will typically travel in a sled pulled by the guide's snowmobile during the safaris, tucked up with the other children for their own adventure. Parents will travel two people per snowmobile. In some cases it may be possible for children to share a snowmobile with their parents but this is always at the guide's discretion.
Read more
Please contact our Travel Experts if you have any questions or concerns in relation to the restrictions in any given destination.
The most vital part of any snowmobile activity is the guide's safety briefing and instructions. Snowmobiles are powerful machines, capable of travelling at high speed and need to be treated with due care and respect – they are not toy machines. You must listen and follow the guide's instructions at all times and make sure that you ask any questions if you have concerns. The guides have had years of experiences with them though and will always be on hand to offer their advice. Don't be afraid to ask them to repeat a thing more than once, that's what they are there for!
If you find you're a bit anxious about snowmobiling please feel free to talk it through with one of our Travel Experts before you go – we've all had a go at snowmobiling and would be happy to discuss it with you. Don't forget also that the activities are designed for beginners and you will find that the whole group is in the same boat. You don't need to be a petrol head of any kind to enjoy this activity.