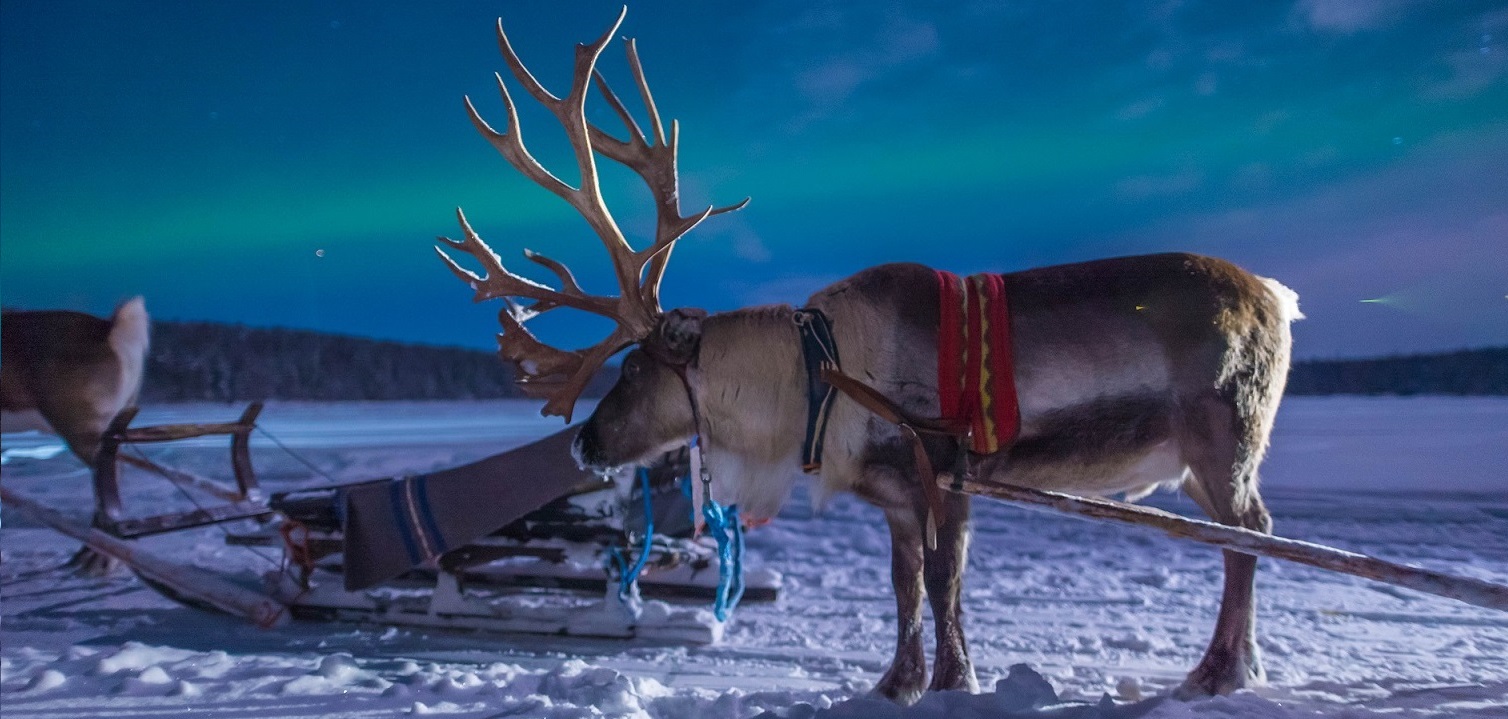 Reindeer Encounters & Sleigh Rides
Image credits: Debbie Smith, John Burgess, The Murphy Family and Antti Pietikainen
Lapland's most well-known animals
Responsible of course for making sure Father Christmas delivers his presents on time, reindeer are perhaps Lapland's most well-known animals, with their very name evoking images of galloping hooves on roofs and jingling sleigh bells.
The reality might be a little different, but these gentle, antlered creatures are sure to be a wonderful feature of your time in Lapland, with the opportunity to see them up-close in their natural snowy environment.
In Lapland, reindeer have been herded for centuries by the indigenous Sámi population and to this day occupy a key role in their culture, language and lifestyle.
The herders you will meet are usually Sámi, and families can, therefore, learn more about this way of life, listening to their stories, seeing some of their handicrafts and experiencing what life is like as a reindeer herder.
Reindeer experiences are fun for all the family for this reason – whilst for children, these animals are synonymous with all things Christmas, for adults they offer the chance to learn more about an interesting culture that has been a key and evolving part of Lapland.
About Reindeer Encounters & Sleigh Rides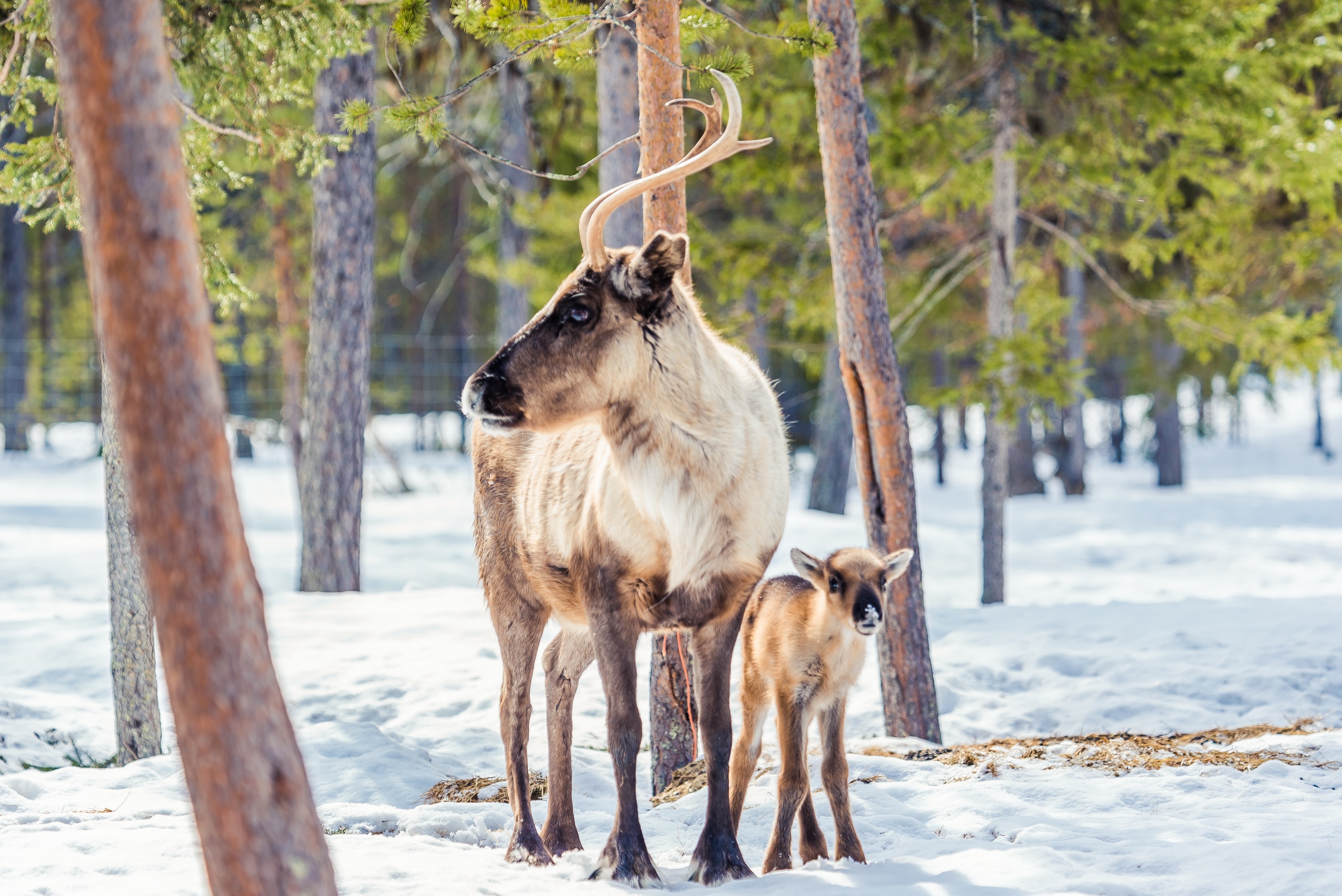 Where can I go to experience reindeer?
With reindeer being associated with all things Lapland, they feature on almost all of our trips in a variety of ways, from reindeer sleigh rides to visiting them in their forest habitat. In most locations, you are likely to also see them wandering freely along the side of the road, sniffing out greenery that may be hiding under the snow.
These reindeer are not wild, as all reindeer in Lapland belong to a herder and have markings on their ears to details their owner, but they do roam freely in the wilderness.
Read more
One of our favourite reindeer experiences is at Menesjarvi where you will travel out with a reindeer herder via snowmobile pulled sled in search of his herd. He will then call the reindeer in for food and you can then enjoy watching them appear through the trees as they eagerly await their food.
At Torassieppi, not only will you be staying in the grounds of a farm, but you can also meet the resident reindeer who live nearby and enjoy the small onsite museum.
Reindeer sleigh rides such as those included in our Jeris multi activity trips are always popular with children and whilst the sleigh will sadly not fly through the air, being pulled across the snow in a reindeer pulled sled is always a great shared family experience. With our tailor made options at Jeris and Harriniva, there is also an evening reindeer safari that can be added, combining reindeer and Northern Lights.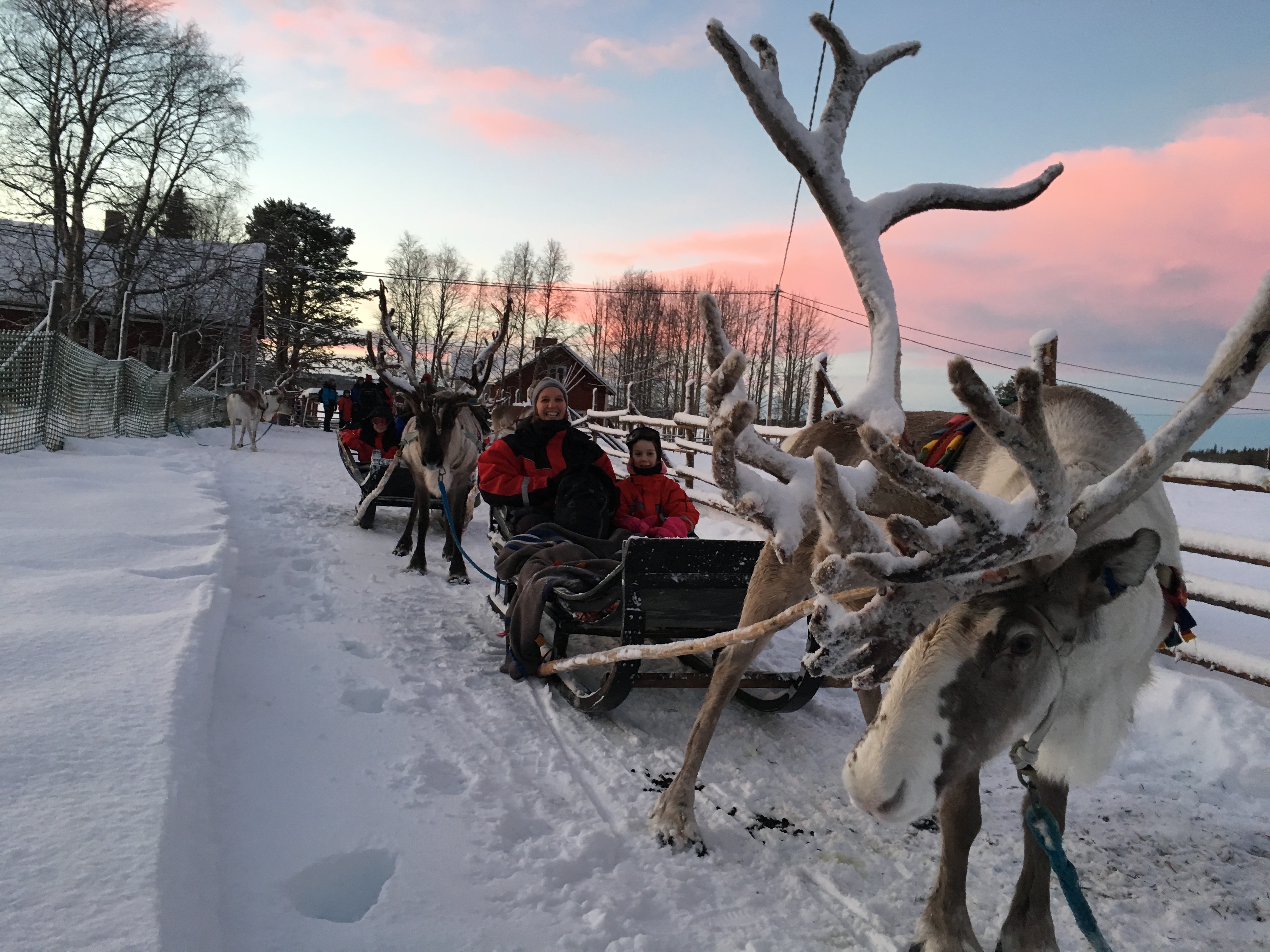 Things you need to know
Whilst mostly placid, reindeer are only semi-domesticated animals and consequently can be a little skittish, so you should meet them with the expectation that they may be a little wary of you. You will, however, be able to get some great photos of them of course and be able to look at their impressive antlers and beautiful reindeer fur.
Another important thing for (children in a particular) to understand about reindeer is that they are not pets and are animals which are herded for their meat and fur which are an essential part of the economy here.
Read more
Whilst the reindeer you see on your reindeer sleigh ride have been trained specifically for this, it's not always the case with other roaming reindeer and the herders and farms you visit are working farms. Throughout Lapland you will also see reindeer furs and be served reindeer meat at dinner, so for more sensitive children, it might be best to discuss this with them before you go.
If you have any worries or concerns about this, please feel free to talk to our travel experts. Many of them have been to Lapland with their families, so will be happy to talk about their firsthand experiences here.