Ice Fishing
Image credits: Claire Bromley, Debbie Smith & John Burgess
What lies beneath the ice?
Winter in Lapland means frozen lakes and underneath the thick layer of ice are hundreds of rather hardy fish! Setting yourself the challenge of catching a tiddler here is not only an enjoyable way to spend time in The Great Outdoors but is also used as a means of food gathering in the winter months.
For families, ice fishing together is enjoyable shared experience. For the little ones it will be all about the anticipation of keeping a watch through the ice hole and waiting for the fish to bite.
Whilst the expectation will no doubt be enjoyable for the grownups too, it is also a chance to appreciate the peaceful scenery from a unique perspective whilst also participating in an activity which has been practiced here for centuries.
There is also sure to be a great sense of accomplishment if you do manage to get a fish to bite!
Ice fishing has been a part of winter life for the people of Lapland for centuries and has been a necessary means of catching food in the long cold winters. Whereas fishing back home might be just a simple hobby for some, in Lapland the fish that are caught are almost always used as food and quite often are cooked there and then by your guides, ensuring the freshest lunch possible! This is always quite an experience for families.
About Ice Fishing
Where can I go to experience ice fishing?
Ice fishing is included on the majority of our family trips and is widely offered across Lapland. In some itineraries it is included as a standalone activity, such as on our tailor made trips at Harriniva where it is done at a lake nearby to the hotel, or Sörbyn Lodge where the lake is just a short walk across the snow.
In other locations it will be incorporated with other activities and you may get to experience the thrill of snowmobiling to the chosen frozen lake. At Nellim, it forms part of an outdoor wilderness day where you will also learn all about fire building and igloo building (essential for arctic survival!)
Common fish which are caught in the lakes of Lapland include perch (the national fish of Finland) which is most likely to be found in clear, deep water and pike, which can grow to a very large size (fingers crossed you catch a big one!) Whitefish are also common in lakes within coastal regions and Arctic Char can be found in the more mountainous regions.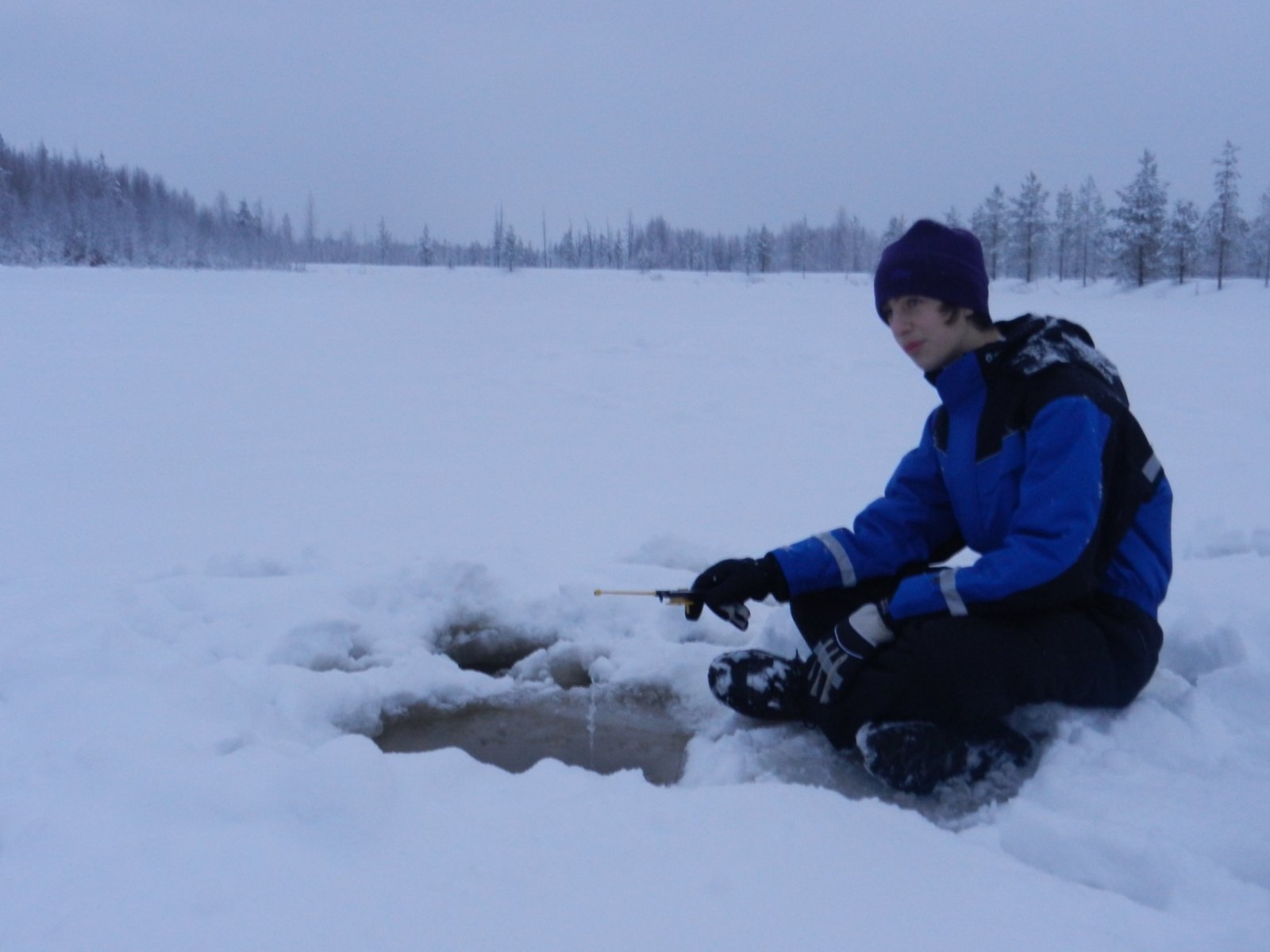 What do I need to know?
Whilst modern ice fishing can include the likes of sonar, mapping and power drills to source their haul, ice fishing on our trips is done the old fashioned way and far from the commercial end of the scale. Your guides will show you how to drill a hole in the ice using a hand drill, and then essentially it's just a matter of dropping a line down and waiting!
The ice in some places can be up to a metre thick, but your guide will be on hand to show you how to create a hole safely.
Patience is definitely a virtue when it comes to ice fishing and you do need to know that your patience won't always be rewarded with a catch, but even if you don't lure a passing fish, it is a lovely way to pass the time, enjoying the quiet frozen landscape with your family.
Read more
It is also important to bear in mind that the fish are caught to be eaten here so more sensitive and squeamish children or vegetarians should be aware of this. Please speak to our Travel Experts if you have any concerns in this respect.
The majority of the ice fishing activities we feature include warm drinks which are served around a fire in order to keep you nice and warm.