Rainforests and reefs
From jungles where orang-utans sit in the trees and pygmy elephants hide in the foliage, to reefs that bloom with cities of coral and burst with shoals of underwater life, Borneo is a dream-come-true for any wildlife-loving family. No more sitting in front of a nature programme on television, wishing you could see it for yourselves: this is the real thing, and we've got exciting nature programmes of our own in store alongside some fabulous activities.
Our Borneo holidays are set in the Malaysian region of Sabah, rightly famed for its lush and vibrant wildlife. On both, you'll be thrown right into the middle of a natural world extravaganza! Beginning at the coastal city of Kota Kinabalu, there will be plenty of outdoor fun – depending on which holiday you choose, you could be taking an internationally accredited diving course that will get you picking up essential skills in the marvellous Tunku Abdul Rahman Marine Park, or zip wiring between the islands of Pulau Gaya and Pulau Sapi on the awesome 'Coral Flyer'.
You'll then head to eastern Sandakan, journeying through rainforests on foot and by boat, as well as visiting some of Sabah's key conservation sites, including the Sepilok Orangutan Rehabilitation Centre. When that's not happening, you might be crossing canopy walkways, mountain biking, or rafting on the Kiulu River. All in all, the whole family will be fully connected to Borneo's rich biodiversity.
Photography provided by Lee Yen Phin, Muhammad Faizan Bin Kajul, G Woolley, Sabah Tourism and Borneo Dream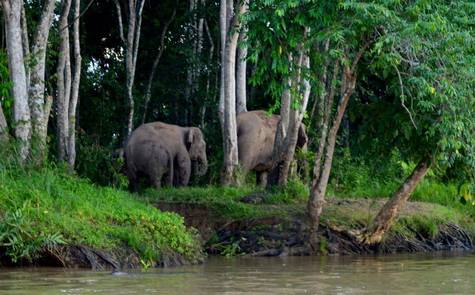 'Wildlife' is the word
'Wildlife' is the word on our Borneo holidays! You'll go on a boat ride through the rainforest and explore the extraordinary Gomantong Caves: home to birds, bats, and minibeasts. At the Sepilok Orangutan Rehabilitation Centre, you can learn all about current efforts to look after these magnificent primates. Similar visits will be made to the Sun Bear Conservation Centre and the Labuk Bay Proboscis Monkey Sanctuary. The whole family will love getting close to such incredible creatures and appreciate the importance of protecting them.
Read more
Book our scuba diving holiday and enjoy a five-session 'Open Water Diver' course from PADI. The experience is immense fun and leaves you with a certificate and new set of skills, enabling access to other international diving sites. Best of all, you'll be swimming with a colourful explosion of tropical marine life.
For more land-based activities, look to our Borneo 'Family Adventure'. Mountain bike past local villages, test yourselves rock climbing in Kota Kinabalu, and tackle the amazing 'Coral Flyer' an inter island zip-wire. Not that you have to miss out on water fun – there will be snorkelling and diving opportunities too, as well as jungle rafting.
Brilliant Bornean moments
When you and the children stand in front of an orangutan and observe its knowing gaze, the hairs on your arms will stand on end. It is very appropriate that 'orang-utan' means 'man of the forest' in the native Malay language: the link we share with these majestic animals will become all the more apparent when you're at Sepilok.
Not many people can say they've flown between two islands on a zip-wire, so don't miss the chance to do so here! You'll feel like action film stars with the wind blasting through your hair as you flash across the crystal sea.
Read more
The view all around is rather special too! As for sights below the sea, the variety of flora and fauna you will encounter when diving in the Tunku Abdul Rahman Marine Park is simply astonishing: gliding hawksbill turtles and colour-changing cuttlefish; moray eels grinning from reef hideouts and sea horses peeking from branches of coral. Keep an eye out for everybody's favourite Finding Nemo stars: the orange and white clownfish and the sea turtle.
From admiring the wonders of the Gomantong Caves and spotting swinging gibbons as your boat heads through the rainforest, to waking up in a jungle resort and rafting down the Kiulu River, you'll go from adventure to adventure, leaving Borneo as a family of true explorers!