Natural activity environments
Soča Valley was the clear choice for our family activity holiday to the west of Slovenia. Any destination which runs a dedicated Outdoor Festival year on year is exactly the place to go – book a trip in July and you're likely to catch the best of it!
Often compared to an emerald in colour, the waters of the Soča River provide no end of aquatic sports opportunities, with enthusiasts paddling and whizzing along on the water. Just on the edge of Triglav National Park, the area is lined by the Julian Alps and their stately slopes, where you can enjoy hiking. Lower down, it is possible to explore mysterious gorges and splash in their bright blue streams. With all this, it's not surprising that Soča Valley was Slovenia's first location to be awarded the title of 'European Destination of Excellence': a stamp of international recognition and approval!
Journeying into the region, we take you to a guesthouse near the peaceful town of Kobarid, well-connected to all activity sites. It's a very friendly place in a beautiful setting, with plenty of fantastic restaurants and pretty streets. Given that our Slovenia holiday is a self-drive option, you can get to know the delightful surroundings at your convenience as you explore both on your own and as a group.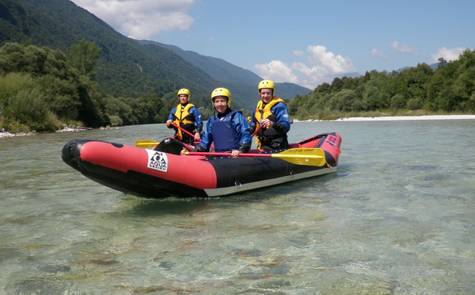 Valley adventurers
The best way to experience the jewel-like waters of the Soča is by raft. The river has a good mix of slow and fast flowing sections, allowing you to comfortably familiarise yourself with its bends and dips. On rafting safaris, you spend the day being gently carried along together, taking on rapids and playing games as you travel! White-water rafting makes for a high-energy adventure which all the family will love: it's a real blast!
More water-based fun can be found in the area's canyons.
Read more
Together you will take on the jumps and climbs of Sušec with an expert to show you the right techniques; abseil down its walls and admire the 15 metre-high waterfalls that feed into it. You'll have just as great a time in Triglav National Park, checking out the likes of the Tomlin Gorges in all their bluey-green splendour.
There are many activities which will also get you acquainted with the valley as a whole. You will go orienteering around Kobarid and take to the trees, zip-wiring and swinging around on high ropes; and with a climbing course you can get a brilliant view of the region.
A true 'Destination of Excellence'
Having visited Soča Valley on multiple occasions, we can safely say that it not only deserves to be known as a 'European Destination of Excellence', but as an 'Activity Destination of Excellence' too.
Where to begin? There's so much that shouts in its favour! Excursions on the river thrill you to the core; wandering the gorges throws you into the depths of nature; edging along a high ropes course, parents and children learn to put themselves to the test. Without a doubt, our activity holiday here is a genuinely entertaining and educational experience through and through.
Read more
On top of this, you get to stay in one of the most welcoming guesthouses we have come across. With only sixteen rooms inside the main building, it's rather like a large cosy home, full of comfy wooden furniture and summer colours.
Your hosts for the activities are Thomas and Tamara and their love for the valley and activities instantly comes across, they do everything to ensure their guests have the best possible time in their valley.