We enjoyed immersing ourselves in Moroccan culture with a trip to the breath-taking Atlas Mountains. The itinerary was thoughtfully organised, breaking up the journey with interesting stops. The first was a dromedary trek. We were given traditional Berber garments and offered sweet mint tea. Our guide, Mustapha, explained the difference between camels and dromedaries and how they are an essential part of life for the local people. Mustapha, satiated our curiosities with fun facts and fascinating history throughout the tour. The trek itself was relaxed with spectacular views of the snow topped mountains.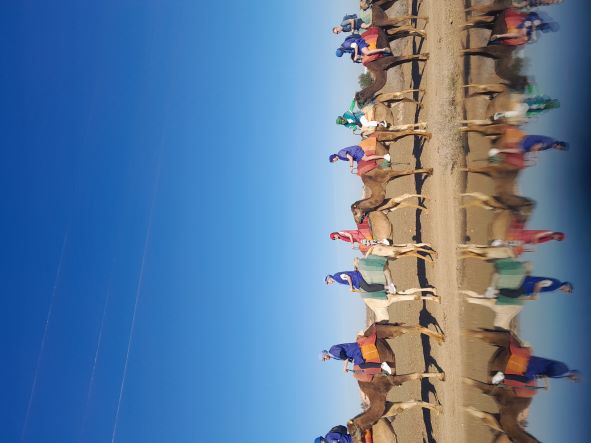 Next, we saw first hand how Argan oil is produced as a women's co-operative. The ladies peeled, ground and sang songs as the owner presented their wide range of products. I was most intrigued but resistant to sample the snail slime lip balm!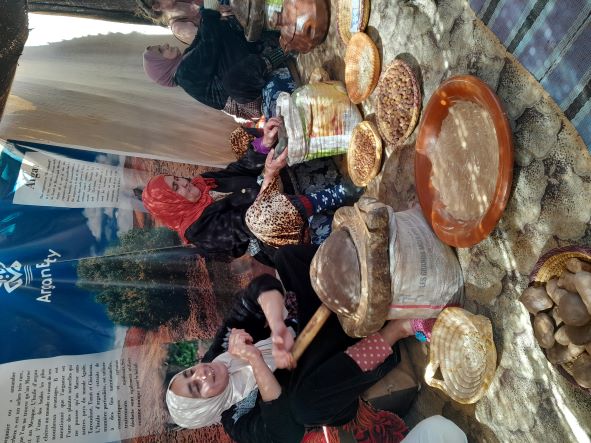 Every Saturday, villagers around the Atlas Mountains convene together at a central market. There was a joyful party atmosphere as Mustapha explained the locals gathered here socially to catch up and share lunch. We were mesmerised by its magic before heading back to the coach.
The journey continued further up the encapsulating mountain range. We disembarked the coach and walked up the rugged terrain to Mustapha's family home, stopping to take photographs and savour the spectacular views. On the rooftop a long table set for all twelve guests was framed by the most incredible backdrop. Mustapha's family had kindly prepared a feast of tagines, couscous and salads followed by an apple flan. I was certainly becoming accustomed to Moroccan hospitality. After lunch, we took a short hike through the mountains, taking in waterfalls and wildlife before our decent back to Marrakech. This excursion was a highlight of our trip; it was an honour to observe how communities in the Atlas Mountains live, work and relax.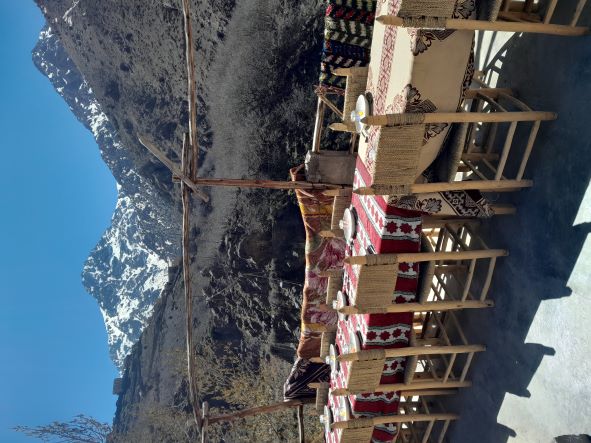 After a couple of exhilarating days exploring all Marrakech has to offer, we were ready to slow down the pace and unwind at the opulent Rebali Riads in Essaouira. The boutique villa was finished to the highest standard with meticulous attention to detail. Every team member that greeted us was warm and attentive. Our itinerary included a sunset horse ride along the beach, touring the historic souks of Essaouira, a game of tennis and concluded with a traditional hammam and massage. The latter was the perfect way to complete such a rich and colourful holiday; I returned home feeling relaxed and rejuvenated.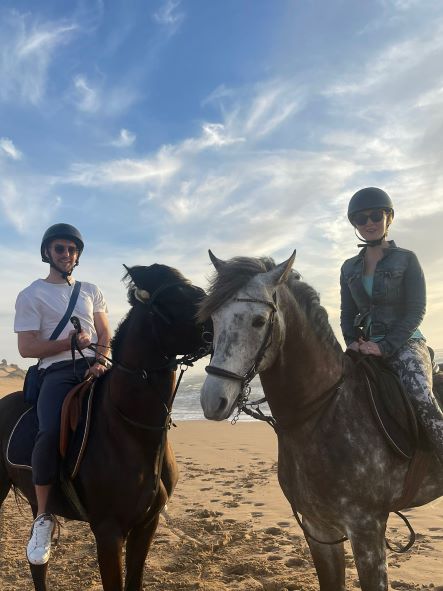 Morocco has been on my travel bucket list for quite some time and I'm delighted that it exceeded my expectations. This vacation ticked all the boxes; stunning scenery, exciting adventure, interesting history, fantastic food, and time for relaxation. If you enjoy embracing other cultures and immersing yourself in an authentic experience, this holiday is for you.