Kayaking & Canoeing
Image credits: tonigrases@photoset.es
A floating adventure
Our summer destinations are carefully chosen to ensure that they offer a range of activities and this means that in most cases they will be close to water – and inland this means rivers and lakes. These waterways provide an activity playground for families and two of the most popular activities are kayaking and canoeing which are always a real hit with adults and children alike.
An ideal activity for a family summer holiday it is something which can be enjoyed by both beginners and those with more experience and is a hugely enjoyable way to take in your surroundings whilst enjoy the thrills of the activity. Your expert guides will accompany you throughout as you descend some of the most delightful rivers and take on the challenge of some of the rapids that they throw at you.
During our holidays the kayaking and canoe trips take you to hidden areas where there are always fun and games to be had. Most trips include an obligatory stop for a water fight and other games and fun challenges too.
The style of canoe or kayak used varies from place to place. In some destinations you will use two person inflatables (mini rafts effectively), in others you may find individual kayaks for more technical water. The type of craft used is always appropriate to the water and the minimum age of the holiday.
About Kayaking & Canoeing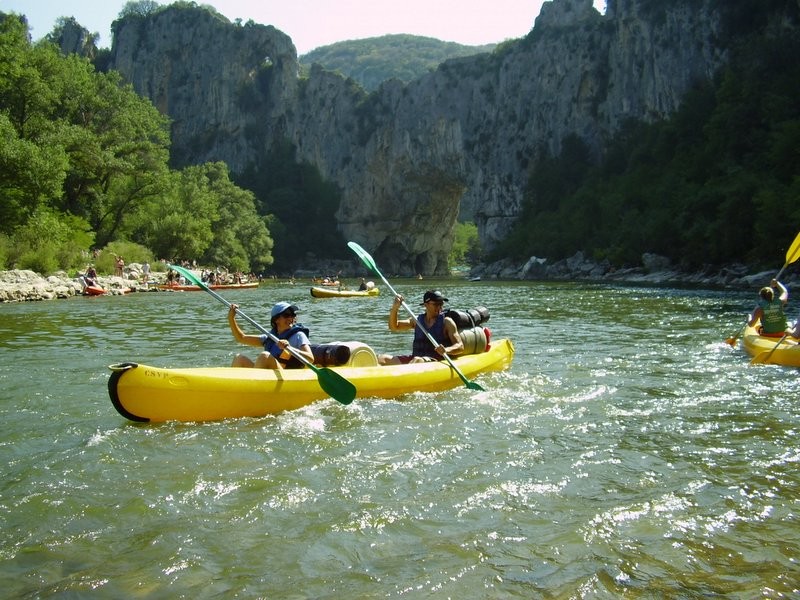 Where can I enjoy kayaking and canoeing?
One of our favourites is the open kayaking along the Noguera Pallaresa River on our Catalan Pyrenees experience. This activity involves you heading off in single or double inflatable kayaks and paddling downstream with the group taking in the clear water and enjoying the variety of rapids.
A real canoeing highlight for families too is our Croatia Adriatic Adventure trip which includes an exciting canoe safari down the wild-west-like canyon of the Zrmanja and Krupa Rivers. You will enjoy a relaxing afternoon on the clear, warm, emerald waters of these Croatian rivers which are widely said to be two of the most beautiful rivers in Europe. This is always popular with families as it involves paddling down easy rapids, searching for hidden swimming pools and enjoying the steep sided canyons.
Read more
Closer to our home, our Lake District trip includes a wonderful canoeing experience on Derwentwater, said to be the 'Queen of English Lakes' as you take in some of the most inspiring landscapes in England.
Things you need to know
Families will often ask us the difference between kayaks and canoes. In their traditional form, canoes are open decked boats which you paddle from a sitting or kneeling position with a single bladed paddle. In kayaks you are usually in a closed deck and will sit with your legs extended out in front whilst using a double bladed paddle. Kayaks and canoes can both be single or double so sometimes you will paddle solo whilst other times you will be with a member of your family. This is usually dependant on your location and the age of the children involved.
Read more
Both are activities which do not require any particular specialist skills, other than the ability to swim and be comfortable in the water. With all of our kayaking and canoeing activities you will be fully equipped with all the necessary safety equipment including a life jacket. Expert guides will be on hand throughout and you will be provided with full instruction prior to setting off. The routes you will paddle are suitable for beginners and the rivers certainly aid with the paddling as they gently help you on your way downstream. Once you have the hang of the various paddling techniques this activity is sure to be an absolute favourite.