Sea Kayaking
Paddle power
Sea kayaking is one of our most popular water based activities with adults and children alike. There is nothing that quite compares to exploring a coastline by kayak. You get to see the landscape in a totally new way and can visit hidden coves and beaches that elude others.
It is a remarkably sociable activity and families of all ages love the experience, travelling typically with two people per kayak means that you can work as a team and help each other along. Travelling in a flotilla also means that your group can enjoy some fun and games along the way and your guide will be on hand to point out things of interest to you.
Sea kayaking is also a great way to watch marine life and birds as they are not unnerved by you as you paddle and this means that you can enjoy some wonderfully close encounters with animals on occasion.
You will be able to see wonderful coastlines, cliffs and beaches, some of which may be inaccessible by any other means which means that you can escape the crowds. Many of our trips include beach picnics and games as well as snorkeling and swimming stops.
About Sea Kayaking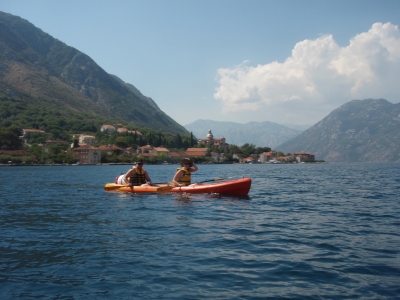 Where can I experience sea kayaking?
This is obviously a coastal activity and our guests can enjoy it in a range of destinations. In the Mediterranean for example, the majority of our holidays include a day on the water in sea kayaks.
You can explore the rugged and spectacular coastline of Gozo in Malta by sea kayak as you visit hidden bays and explore the cliffs and rock formations. A delightful picnic will be served to keep you well fuelled.
Turkey offers the chance for families to kayak to a sunken city just off the island of Kekova, the turquoise waters are so clear that you can gaze down at the buildings beneath you which have been submerged since the 2nd century!
Read more
Further afield, the Galapagos Islands provide a sea kayaking haven and the experiences on offer here are unique. You can kayak around these fames islands and witness aquatic iguanas, sea lions and a variety of endemic bird species go about their business, the marine life here is also unforgettable.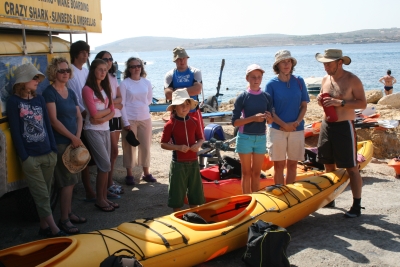 What you need to know
You can cover large distances by water in a kayak and they are remarkably efficient so it is relatively easy to do so and you don't need an above average level of fitness.
Once you have been shown the basics of paddling and steering by your expert guide, you will take to the water in your life jacket to partake in the activity.
Everyone will get a paddle and you will typically travel in pairs. In some cases you may be given single kayaks if appropriate or young children may travel with two parents.
Read more
The kayaks used are a mix of both 'sit on' and 'sit in' kayaks depending on the destination you choose and either is very efficient and designed for easy use so you do not need any prior experience. To take part you should simply be confident in or on the water.
As these activities take place in generally hotter climates and on warmer seas, you will typically take part in swim wear, although if conditions dictate you may be provided with warmer layers or splash jackets. We do recommend wearing a t-shirt to protect you from the sun and to provide extra comfort as you must wear a life jacket on top.
The sea reflects the sun and so you must ensure that you have a very high factor and waterproof sun cream on and with you throughout the day. A sun hat is highly recommended as shade will not be available. You must carry at least a litre of water per person and your guide may recommend more.
You will kayak in convoy with your guide and travel at the pace of the slowest boat so the whole group can enjoy the experience together. It's a very sociable water activity.