1. Reindeer sleigh rides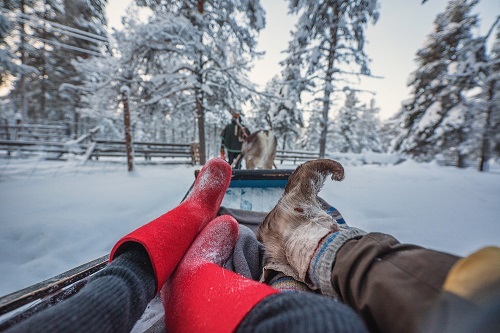 These sweet and gentle animals, that have become synonymous with Lapland, evoke the warm festive cheer of Christmas by name alone and are sure to put a smile on the whole family's face. Reindeers are truly amazing animals; did you know that they are the only mammal that can see ultraviolet light? On our recent blog post: https://bit.ly/36RbKwG you can learn even more interesting facts about these marvellous animals.
Owing to their popularity, reindeer feature on almost all our trips in a variety of ways, from short reindeer sleigh rides to afternoons spent with a Sámi reindeer herder learning all about these fascinating people. During a visit to a reindeer farm, you can immerse yourself in the rich Finnish culture of one of the only indigenous people that remain in Europe and learn how important the reindeer are to the lifestyle of these traditional herders. Some visits may include a reindeer feeding session and they will enjoy being fed some of their favourite treats! There may also be the opportunity to experience a fairy-tale sleigh ride through the winter wonderland of Lapland.
There are so many incredible places to meet reindeer. Perhaps you could try Harriniva for a truly unforgettable experience: a Northern Lights reindeer sleigh ride!
2) Husky sledding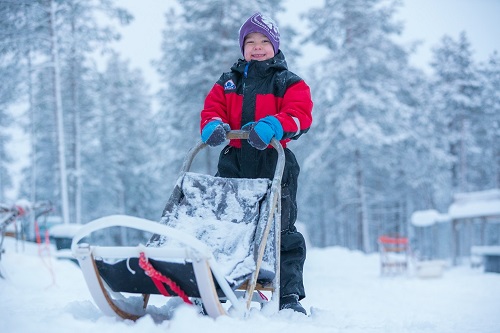 A firm favourite among our clients, dog sledding is a thrilling way to enjoy the company of loveable huskies whilst exploring the striking Arctic surroundings. If you head to a husky centre for some unforgettable sledding, you will be able to meet these amazing working dogs and learn about their life. It is also possible that there may be some puppies to play with, this is always a treat!
Adult visitors will be provided with full instruction regarding how to handle the team of huskies and the sled before setting off in pairs. The children typically all travel in a sled which is controlled by a guide. The route taken is ideal for families and covers around 6km. Our clients all note how nothing can beat being pulled along by an eager team of huskies as you whizz across the beautiful Arctic landscapes. If you're looking to give this unforgettable activity a go, here are some of our Family Travel Experts top tips to make the most your experience:
Make sure to wrap up extra warm, particularly your hands, feet and face. It gets chilly out on the ice!
Save your doggy cuddles for after the sledding
Remember to relax and enjoy the ride- try not to let any nerves get in the way of a truly incredible experience
3) Sleep under the stars (and potentially see the Northern Lights!)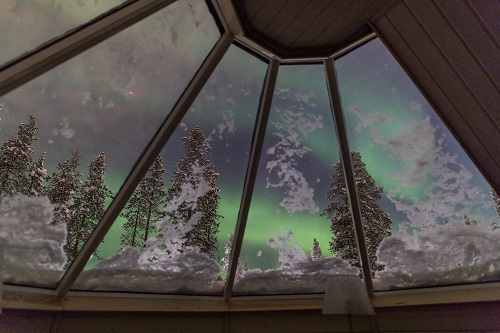 Searching for the incredible Aurora Borealis from the comfort of your own bed and sleeping under the beautiful Arctic night sky is surely an experience for which we all long for. Lapland has many incredible Aurora accommodations which are suitable for families to enjoy, either for the entirety of their break or even for just one truly unforgettable night.
My top three picks are:
Northern Lights Village Saariselkä – spend the entirety of your stay here in the super cosy cabins - only a short shuttle bus ride or 40-minute walk from Saariselkä's small ski resort, making them an ideal choice for those who are also hoping to try a bit of skiing on their winter escape.
Ranua's Arctic Fox Igloos – Set 8km away from Ranua Wildlife Park, these igloos are idyllically located on the shores of lake Ranuanjärvi, offering you and your family the ideal viewing spot for the Northern Lights away from any potential light pollution.
Jeris' Aurora Domes – love the idea of glamping? Then the amazing Jeris is for you! These cosy domes are nestled on the banks of Lake Jerisjärvi. With their log-burning stoves and ideal north-facing views, these domes will keep your family toasty as you search for the Aurora.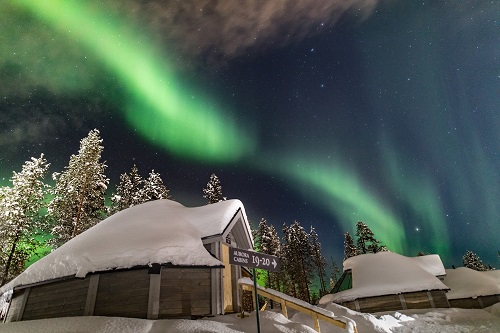 Take a look at our family Lapland holidays here or speak to one of our Travel Experts on 01670 789991
---
Image credits: Timo Halonen, Antti Pietikainen, Markku Inkila