Best Trip For Extra Fun In The Snow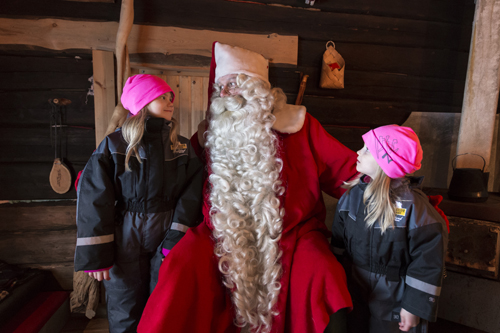 Our Ranua Pick and Mix holiday is ideal for families looking to tailor their festive activities and remains a firm favourite amongst our guests. Here you'll have the option to experience exhilarating husky safaris, cross-country skiing through the incredible snowscapes, or take a relaxed excursion to the nearby wildlife park where the whole family can delight at the chance to spot animals such as polar bears, elk, deer, arctic foxes, lynx and moose!
The magical and intimate trip to see Father Christmas in his hidden cabin deep in the winter wonderland of Lapland is, however, the main highlight. Rauna also offers an amazing amount of flexibility to fit your family's needs and the perfectly private, authentic Father Christmas experience.
Best For A Cosy Winter Cottage Stay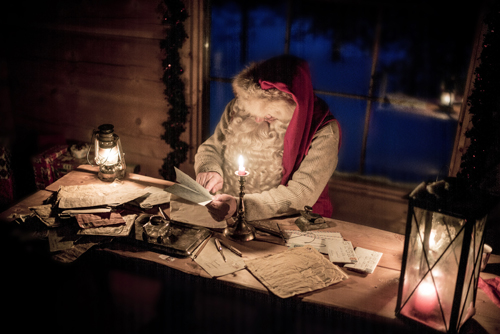 For a magical winter cottage stay, you can't get better than our trips to Jeris. With log fires and private saunas, these idyllic cosy cottages are nestled on the frozen lakeside surrounded by snow-laden forests, offering the perfect setting for an unforgettable Christmas. The children will have the opportunity to sit and share their Christmas wishes during a private and authentic visit with Father Christmas himself, capturing a true sense of magic they won't forget in a hurry.
There is a wide range of activities on offer in Jeris so your family can make the most of all that Finnish Lapland has to offer; from active fun such as husky sledding and snowmobiling to festive pastimes like treasure hunts, Christmas crafting and baking cookies. From dining experiences in the local ice hotels, to enjoying a meal around the campfire, our Jeris Father Christmas trips make for a truly varied and unforgettable experience.
Best All-Round Festive Experience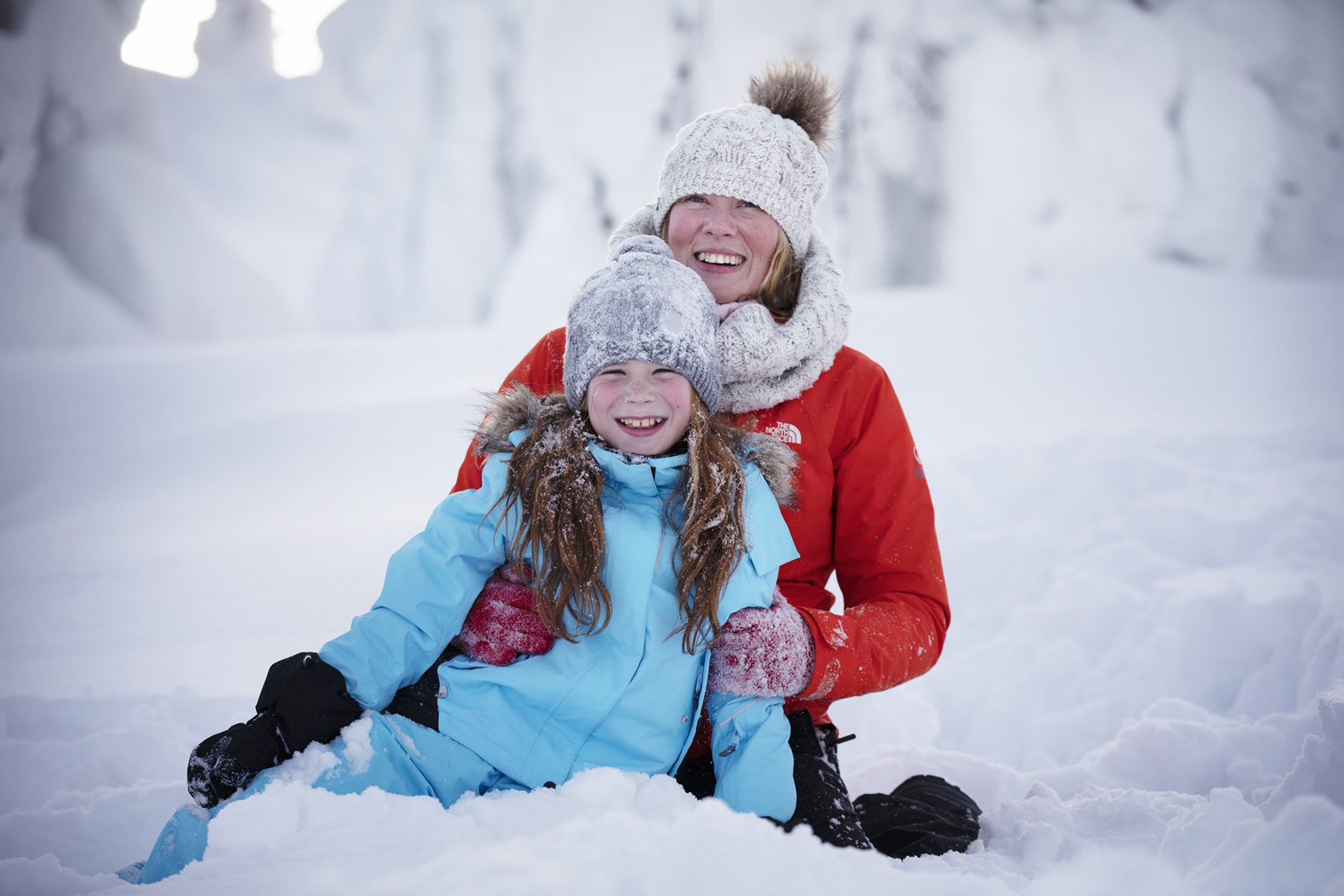 Our trip 'A Magical Search for Father Christmas', is a favourite with our Activities Abroad travellers as it provides an authentic Father Christmas experience that the entire family can enjoy. At Kuusamo, you will find a holiday that is thoughtfully crafted. Enjoy an informal Father Christmas experience that's much more relaxed, intimate and less commercial where you and the kids can spend five full hours at the home of Father Christmas. You will be looked after by his amazing elves as you take part in a number of fun festive activities.
As Kuusamo is surrounded by natural beauty, from fells and forests to frozen lakes and rivers, the beauty of this area never fails to make an impression. While staying in one of the cosy semi-detached cottages at the family-friendly hotel, this will become your base for a range of tailored winter activities. From husky sledding and a magical reindeer sleigh ride, these are tailored to those with younger children, so you and your family can create lasting memories. The hotel also offers a wonderful swimming pool and soft play area so there's plenty to do between the day's activities.
Best For Watching The Auroras From The Comfort Of Your Bed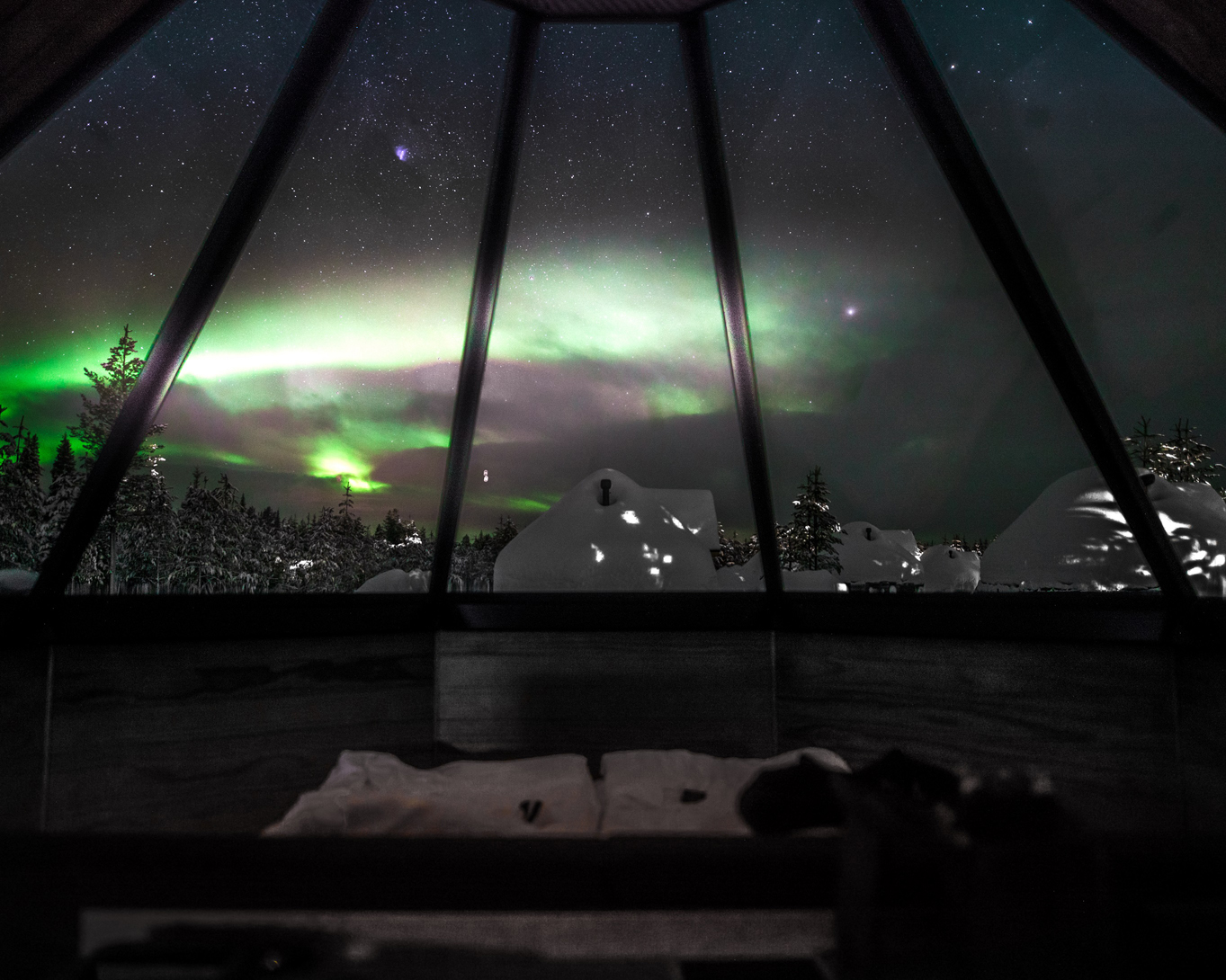 As well as being able to tick the Aurora off your bucket list, our 'pick and mix' holidays, give you the freedom to choose activities that are best suited to your family and their interests. Our trips to Levi and Saariselkä are ideal for meeting Father Christmas, starting with a magical sleigh ride through the winter wonderland in search of the lights of his secret cabin. While more commercial Father Christmas experiences involve queuing to meet the big man himself, our trips see each family taken one at a time by a friendly elf for a private gathering. You will even receive a gift to take with you!
As well as being able to meet Father Christmas with the children, you can also tick the Aurora off your bucket list. Chasing the Northern Lights during the winter months can be as challenging as it is thrilling, which is why many of our trips are designed to make Aurora hunting both comfortable and exciting. Those looking for a chance to see the incredible Aurora from the toasty confines of their bed need look no further. You'll stay in the amazing Aurora cabins with their partially-glassed roofs, constructed to give you a view of Northern Lights while staying warm inside your cabin.
Perfect For A Short Festive Break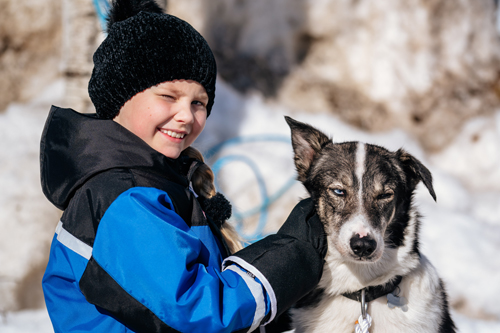 Located just 15 minutes from Lapland's capital Rovaniemi, the Apukka Resort is the ideal location for a short family Christmas break, with easy access to all the festive fun in the official land of Father Christmas. Hidden away from the city lights, the Apukka Resort allows you to surround yourself with the magic of the Lappish winter wonderland. For 3-nights, your family can indulge in a variety of winter activities, with the option to tailor those that your family will love the most.
Best of all, Mr Claus will be waiting for your visit to his secret cabin where you will be welcomed by elves and shown around the indoor park. This Father Christmas visit offers the opportunity to take the magic train, bake gingerbread and send special letters to loved ones from Lapland. There's also the chance to visit the amazing home of the Ice Princess, complete with Ice Gallery and Bar.
Best For Flexibility and a Tailor-Made Experience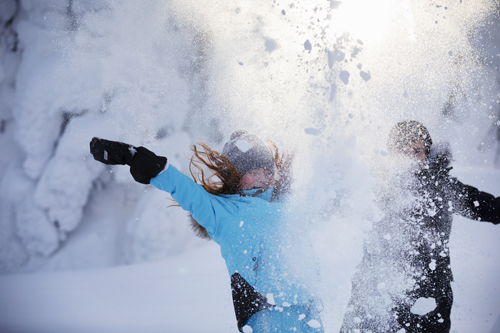 Ruka offers the perfect trip for families looking for ultimate flexibility in their Arctic itinerary. As one of the largest ski resorts in Finland, it is one of the top destinations in the country with plenty of opportunity to try out a range of snow sports.
In fact, there's many activities for the whole family to enjoy that you can choose for a tailored itinerary that suits you, your family and their interests. Try your hand at snowmobiling or husky sledding over the tundra or take a more laid-back approach relaxing in the saunas and Jacuzzis of Lisakki Village. You can even treat yourselves to a truly unforgettable overnight stay in an igloo! There is something for everyone in Ruka.
Best 'Hidden Gem' Trip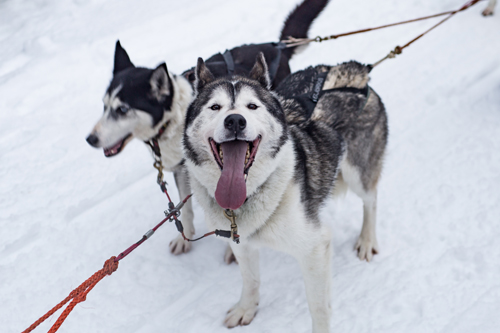 Vuokatti, located in the Lakeland region of Finland, is a lesser-known but no less magical winter wonderland experience for your family. Considered a 'hidden gem' in the Arctic, it remains idyllic for a family Christmas holiday that's free from crowds and commercial attractions.
The kids will love the truly special trip to Santa's Village, where, after enjoying some hot drinks and Christmas treats, they can meet Father Christmas. During your private meeting in his cosy cottage, there'll be the chance for a family picture together so you have lasting memories of the day and children will also receive a small gift as a token of the experience.
If you're keen to get into the full Christmas spirit, you can even pet and feed the wonderful reindeer! The range of activities in Vuokatti is fantastic and they are operated by passionate and knowledgeable guides who know the destination inside out. From husky safaris where you'll rush through scenic snow landscapes to trying your hand at the ever-popular pastime of ice fishing, your family is sure to have a memorable festive trip. Evenings will be spent at the Hotel Vuokatti and Suites, where modern comforts meet the picturesque setting, overlooking the frozen lake.

If you're thinking of treating your family to a trip to meet Father Christmas in winter, you can get in touch with our team to discuss each holiday in more detail.