Starting in the peaceful town of Llavorsi you are launched within 100 meters into what the locals lovingly call 'The Washing Machine' and that will wake you up and cool you down.
Then for 2 hours your expect guide calls on his engine room to help steer through a succession of rapids guaranteed to thrill and excite everybody. Then it's lunch in a lovely local riverside restaurant to replenish the calories spent and then back on to the river for another 2 hours through the glorious scenery of the dramatic Canyonlands region before arriving exhilarated and with a true sense of achievement at journey's end.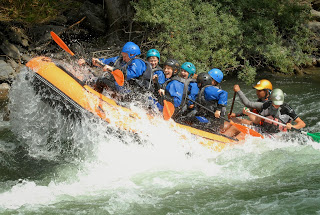 I have been fortunate to have experienced this activity several times over the years and it never, ever fails to deliver!