Snowshoeing
It's said that there's no better way of getting close to the wilderness than to trek through it on snowshoes. Our expert guides will point out things which can be easily missed, like hidden animal tracks and special plant life. Best of all, this is often combined with a survival skills session where you can learn how to get a campfire going and build an igloo.
Snowmobile
Whether you're in Norway, Sweden, or Finland, a snowmobile is essential for travel.
There are plenty of scenic routes to zoom over, and it's also possible to ride under the Northern Lights!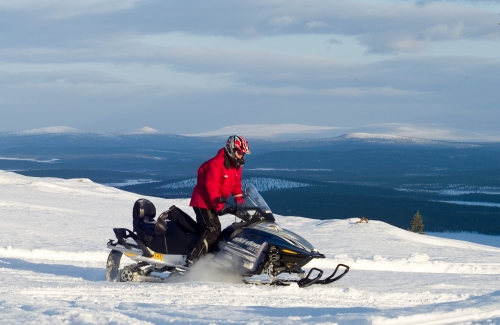 Hovercraft tour
You don't have to be a Star Wars fan like myself to get the appeal of a hovercraft: what a futuristic-sounding way to get about! ('Hoverbikes' are in development, but they're likely to be a while away. Until then...)
This activity is specific to our Brändön holidays in Sweden, where you tour the icy Luleå Archipelago – plenty of wildlife to be spotted!
Note: Lightsaber not included.
Cross country skiing
Despite never having skied in my life, and in the spirit of trying new things, I think taking on a cross-country skiing trail would be fantastic. We have instructors to teach everything from scratch, so it's perfect for intrepid beginners!