During a family holiday to Lapland with Activities Abroad, you're invited to Father Christmas' home for a memorable encounter. As well as this, you'll experience some once-in-a-lifetime winter activities to really make the most of your time here.
Once you get away from the built-up towns, the true Lapland takes shape and that's where we base our family holidays to give you the most authentic experience. However, we know that deep snow, Arctic temperatures and frozen landscapes are all things our families won't be particularly used to. That's why we've pulled together these top tips to help you prepare for your time here.
We've collected this advice from our Family Travel Experts who have all taken their own families on a holiday to Lapland, so you can rest assured this is first-hand experience you can use for your own trip.
What's more, you can call on our Family Travel Experts to answer any other questions you may have so you're fully prepared for your family holiday of a lifetime. Call today on 01670 789 991.
Best age to take the children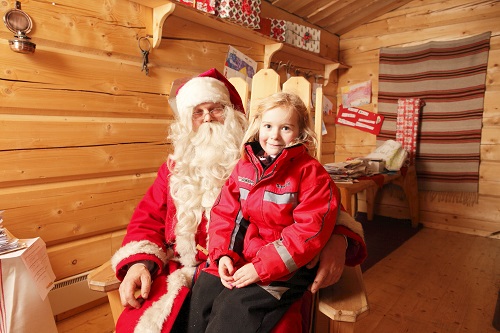 There is, unfortunately, a limited timeframe for the magic of Father Christmas. When the children are too old, meeting the man in red will lose its appeal. Too young and the children may not remember this incredible moment.
From our experience, we've found that between the ages of 5 and 9 is usually best. Of course, all children are different so please take this into account when considering your own family holiday to Lapland.
There's also the climate to think about. Though we do provide warm winter clothing on all of our holidays, the cold may still really affect younger children and it will most certainly tire them out.
When to go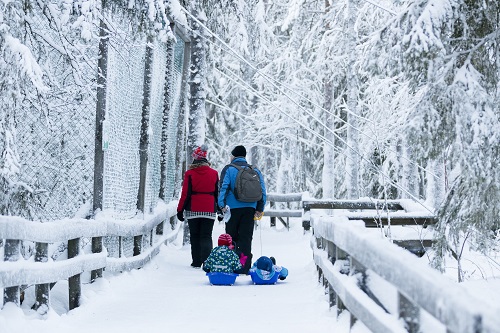 Lapland has a long winter season so the snow-based activities are available for quite a few months. However, we recommend visiting in December either in the run-up to Christmas to really build the excitement, or just after to keep the celebrations going. You could even celebrate the big day here for a guaranteed white Christmas.
A good thing to remember is that in Finland, their main festivities take place on Christmas Eve, so you'll celebrate with the locals as well as have your own family time on the day itself.
When to book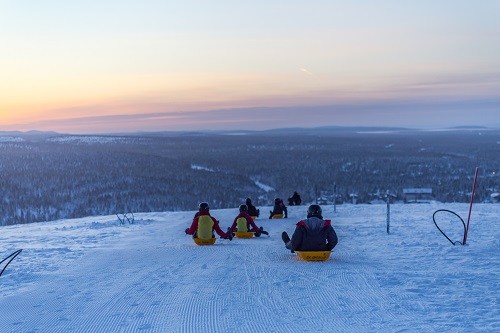 Understandably, Lapland in December is a popular holiday destination. We recommend booking as early as possible, as the best flight times and weekend dates always sell out.
We have over 15 years of experience in family holidays which is why we know that the difference between booking early and booking late can mean a significant change in flight prices.
In order to provide you with the best price, we have contracted seats with the airlines. We book these 11 months in advance so we can usually guarantee the flight price. However, once we sell all of these seats, it is down to whatever the airlines are charging at the time of booking.
What else can you experience
Father Christmas, of course, is usually the main reason behind booking a holiday to Lapland but there is so much more on offer here. We have a range of Lapland family holidays that include Father Christmas visits but also other activities to give you the complete Lappish experience.
We recommend looking through all of our Father Christmas Lapland holiday agendas and choosing the destination based on the experiences you feel will make the most of your trip.
Whether you want to get to know the local wildlife, stay in an Aurora Cabin or tailor your own holiday with exciting snow-based activities, we have the itinerary to suit every family member.
When looking at activities make sure you check the minimum age. As a general rule in these wintery conditions, a child of 4 or 5 years can usually take part in an activity that lasts up to an hour. Combined activities are good (for example snowmobile safari to a reindeer farm) as they usually include a break inside or by a hot fire to warm up.
We always have a local guide with you on these trips so if you have any queries before you set off or during the activity, they're on hand to help. If you have any queries about the activities before booking your trip, our Family Travel Experts can talk them through with you.
How long to go for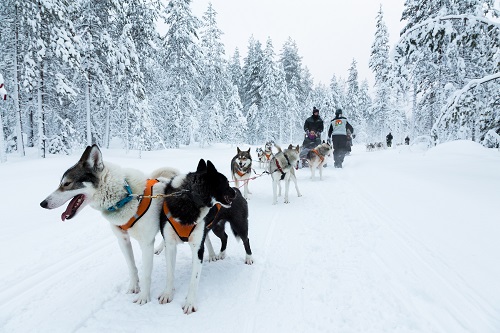 We recommend at least three nights to not only settle into Lapland but to really make the most of your time here with fun winter activities. Why come all this way and not experience the area properly?
We try and keep travel time to a minimum, and our accommodation is never hours away from the airport. A top tip for these transfers is telling the children you're on the way to the North Pole, the snowy backdrop as you drive will certainly convince them!
What to bring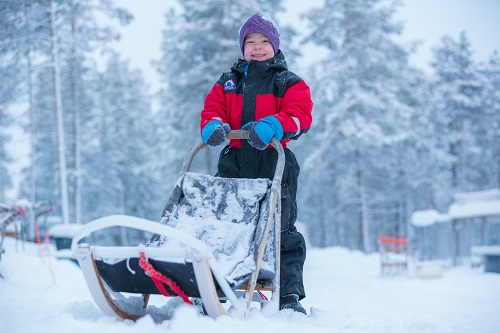 When you book a family holiday to Lapland with us, you'll also receive a packing list to help you prepare for your trip. However, there are a few things that are worth mentioning now.
Though we provide warm winter clothing upon arrival at your destination, it's important to bring lots of thermal layers to go underneath. Remember to take an extra pair of gloves and hats as they will get wet. Ski socks, balaclavas and neck warmers are also great accessories to provide that extra warmth. One thing all of our Family Travel Experts swear by is hand warmers for both your gloves and your socks!
We provide the real North Pole experience which means some of our accommodation is quite remote. For this reason, we suggest taking your children's favourite sweets and snacks. This not only helps at the end of the day when you settle in for the night but is also a great way to top up energy throughout the day when you're doing some of the snow-based activities. Lapland isn't without its own treats though – the Finnish chocolate brand Fazer is exceptionally good and has saved some of our little ones having a meltdown!
With some many moments to capture, it's essential you bring a camera with you. What's more, make sure you bring extra batteries for your camera and charging packs for your phone as the cold will really drain them.
We also recommend downloading a Northern Lights alerts app before you go as you're in with a good chance of seeing them here!
Finally, we advise you to take lip balm as the air is very dry and lips get chapped. Oil-based balms and moisturisers are best as they don't freeze in the cold temperatures.
Really prepare for the cold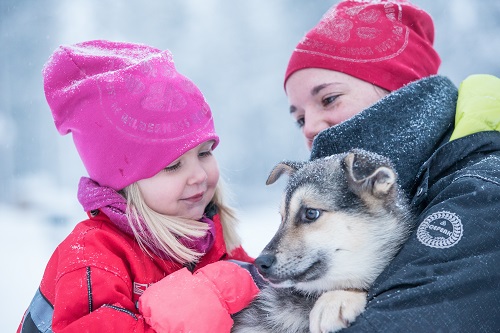 We know we've already mentioned it but it's worth reiterating that this really is the true taste of Lapland and the weather is as authentic as it comes.
Thermal long johns are your best friends here but don't wear too many layers. During the activities, children will be extremely wrapped up, especially when they are sat in sleighs. What's more, they will most likely be running around and playing in the snow at any opportunity they get, so you'll probably find that they will be warmer than the adults.
However, don't overestimate your child's energy. The cold is very tiring and pairing this with the exciting adventures they'll have, they can run out of steam quite fast.
Through our many holidays to Lapland, we know that Father Christmas is just the start of the magic. Though it can feel daunting travelling to such an unusual destination, a holiday out of your comfort zone leads to so many amazing new experiences.
All of our trips really are family-made family holidays. We've got so many tips and tricks from our own experiences in these destinations that we couldn't possibly fit them all in this blog.
However, our Family Travel Experts are here to talk through any questions or concerns you may have and give you their first-hand experience. Contact us today on 01670 789 991 or browse our family holidays to Lapland here.
---
Image credits: Kimmo Syväri and Visit Finland, Hotel Gulo Gulo, Antti Pietikainen, Matt Robinson