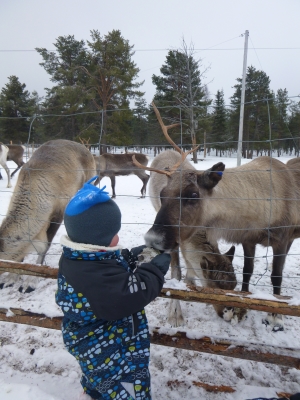 Reindeer
Visiting Father Christmas in Lapland has to be one of the main highlights of any family holiday to Lapland. It really is a dream come true. Our guests also enjoy witnessing the phenomenon that is the Northern Lights as it's certainly a bucket list item that everyone wants to be able to say they've experienced in their lifetime.
What's your favourite client memory of the season?
I enjoy hearing stories from when clients experience a husky safari for the first time. There is always such a great sense of achievement from completing a husky safari and the clients always seem very happy when sharing their memories.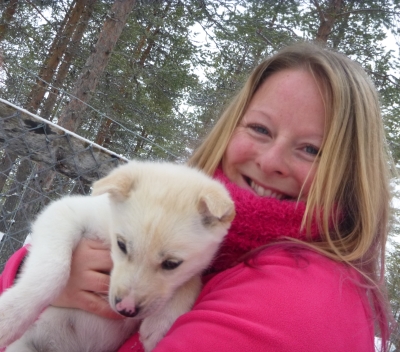 Cuddles with a husky pup
What makes Harriniva , Torassieppi and Jeris child friendly?
All of the staff are very friendly and patient and most have kids of their own. There is also a souvenir shop at Harriniva where you can buy cuddly toys and snacks. There are also lots of activities that keep children entertained including kick sleighs and toboggans. Plus there is also find a snow hockey pitch.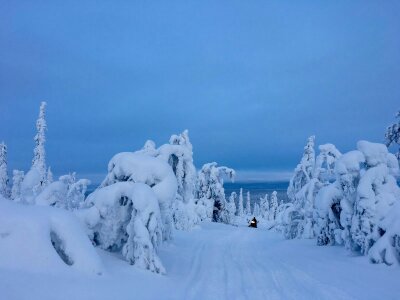 Winter Wonderland
Do you have any tips for anyone visiting Lapland?
If you're visiting this area of Lapland I would recommend experiencing two places; the Torassieppi Winter Village and the brand new Aurora Domes.
The winter village is cool in all senses of the word and is very unique. The winter village is built from ice and snow and offers snow rooms and ice sculptures. Guests can also enjoy a meal at the ice restaurant during their time in the village.
The new Aurora Domes in offer cosy and warm accommodation by on the frozen lake with great views of the Northern Lights if they make an appearance. I would describe this as glamping under the Northern Lights.
What are your top tips for keeping warm in Lapland?
When I'm outside I always wiggle my fingers and toes to keep them warm. I also wear lots of loose fitting layers.
Did you enjoy any activities this winter?
This winter I have experienced many of the activities that our families enjoy. I really enjoyed snowmobiling to the winter village. Another activity I experienced was snowshoeing in the national park. Snowshoeing is a great way to explore the area as it makes it easier to walk across the snow.
What is your favourite winter activity and why?
My favourite activity has to be the husky safari. There is no other activity it can be compared to. It is an amazing feeling to mush your own team of dogs across frozen lakes and through forests in the middle of nowhere with no noise and no one else around.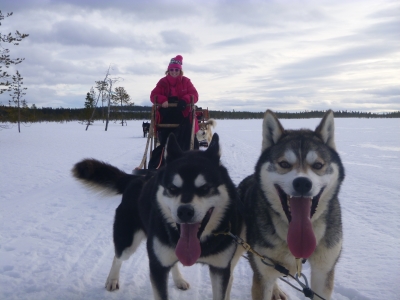 Husky Safari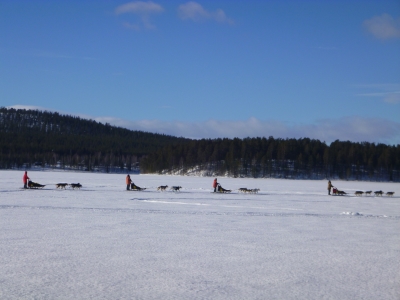 Dog sledding