With my dad celebrating a special birthday this year (70 but keep that to yourselves!) I decided to bite the bullet and suggest the trip to my mum who I initially thought would be very nervous about travelling to the Arctic. Needless to say, I hadn't even finished my sentence before she had jumped at the chance! The conversation went a little something like this….
Amy: "Hi Mum, so what would you think about arranging a trip to Finland for Dad's big birthd..."
Mum: WE'RE IN
Amy: Okay so you understand that is in the Arctic Circle and it is likely to be cold and we will do things like snowmobiles and huskies?
Mum: Yes, how much money do you want? And where shall I send it?"
So, I took that as a positive reaction and started seriously considering which of our many destinations would suit my family best. The only slight complication (for want of a better word) is my almost 2-year-old daughter who would be coming too.
After much consideration, I settled on a log cabin in the Muonio region of Finnish Lapland. I chose this option as I knew my parents would want to stay in a log cabin if possible and it also meant that we could spend time together in the evening when Jessica was asleep rather than being in two separate hotel rooms.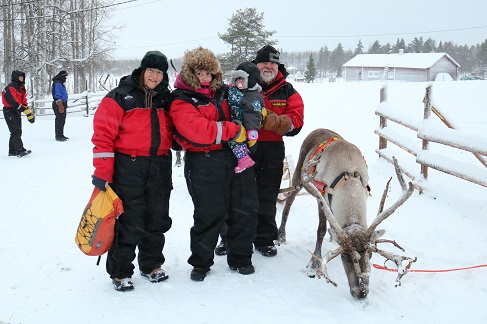 The next challenge was finding activities we could all do together that would suit a 2-year-old right up to a 70 year. Together we enjoyed meeting the reindeer, with many enthusiastic shouts of 'Reindeer!' from Jessica, and mum and dad enjoying learning more about the lives of these animals which they had never been lucky enough to see before.
We also tried ice fishing, which was slightly less successful but was saved by the presence of the sledge which we used for transporting Jessica around all week. However, it also took some energy from her dad and me towing her around the frozen lake! Meanwhile mum and dad just lay back on reindeer fur sipping on their hot chocolate!? The cheek of it!
There were times when we did do things separately. For example, mum, dad and my husband went off and did a snowmobile safari and later in the week headed off on a husky safari whilst Jessica and I quite happily waved them off, did some sledging (which she absolutely loved!) and had a nice long nap. Hearing their excitement and stories when they got back was fantastic and we were actually waiting for them back at the husky farm so got to meet some of the dogs and took lots of pictures too.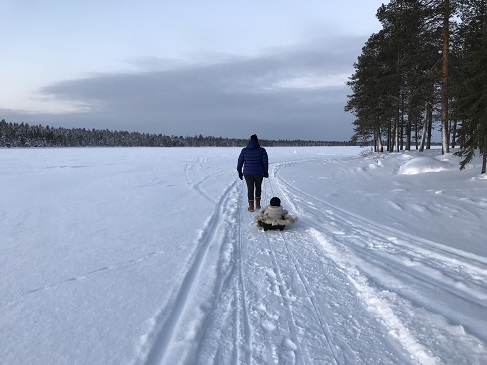 A regular question our sales and customer service team are faced with before people travel to the Arctic are concerns about dietary requirements. Having checked these many times with our local partners over the years and read countless positive comments on feedback questionnaires I regularly reassured people that any dietary requirement could be catered for so long as the hotels know in advance. This suddenly felt much more real when I was faced with taking a dairy and soya free child who basically only eats beige food with ketchup (something I am not proud of!) to the Arctic Circle.
One of the recurring questions people asked when I told them about our trip (after their initial excitement and jealousy) was "what are they going to feed Jessie?!". Unfortunately, we have had a couple of bad experiences in the UK where she has been given something which was not suited to her dietary requirements. However, I also knew that we had a small kitchenette in the cabin and a car, so even in the worst-case scenario I could drive to the supermarket and find something she could eat.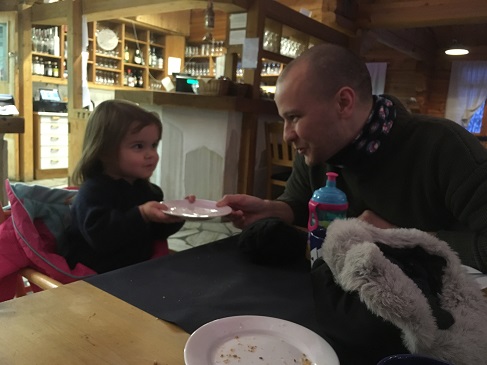 We arrived at the hotel around lunchtime and had sat at our tables ready to get some lunch from the buffet when one of the waitresses tapped me on the shoulder and gave me a piece of paper with a diagram of the buffet table and a tick in almost all of the plates which were drawn on it and a cross in those the chef suggested we avoided. It was incredible!
I have never, ever come across anything like this in the UK or on holidays elsewhere. Just after sitting down having got our food the waitress reappeared and asked if everything was okay or if the chef should prepare something else – an omelette or some chips. I was astonished! I decided to see how she would do having chosen some familiar items from the buffet (pasta salad, crackers, ham) and to my surprise she wolfed everything down! No sooner had her plate been cleared than a small dish with berries and yoghurts appeared in front of her. Before I had opened my mouth the waitress appeared telling me not to worry it was plant-based yoghurt and she was certain it had no trace of dairy or soya and would I like to see the packaging just to make sure….!? It was amazing.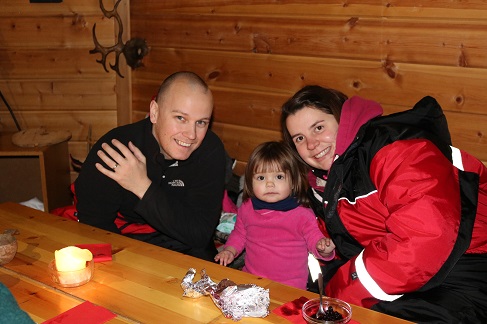 That evening when Jessica's main course was delivered to the table it arrived with a different dressing and way of cooking the potatoes to make sure it was suitable, and the most incredible thing happened, she ate the whole thing! During the week she ate reindeer, pork and moose – this from the child who once refused to eat sausage because it had been cut horizontally and she didn't recognise it!
It is a testament to the skills and care of the chef and the waiting staff that one day when walking back from the buffet to our table a waitress appeared next to me and said 'excuse me but that isn't for Jessica is it as that salad has a small amount of butter in the dressing'. I have genuinely never felt so relaxed in what Jessica was eating and astounded by what she was willing (and eager) to try by the end of our stay. It made a huge difference to our holiday and I was really grateful to the efforts the staff made.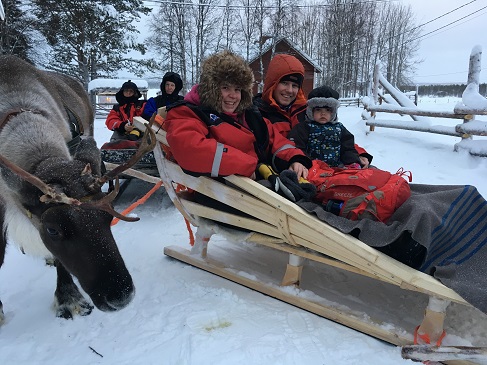 Overall there was not one thing I would have changed about this holiday. The range of activities suited us perfectly, the remote location was idyllic and the cabin was just perfect for us too. Everything ran completely smoothly and the guides catered wonderfully for not only the age range in our party but also across other members of the group too. It was a really big deal for me taking my family up to Lapland after talking about it for so long and this holiday delivered in every possible way.