1. White-Water Rafting - Pyrenean Family adventure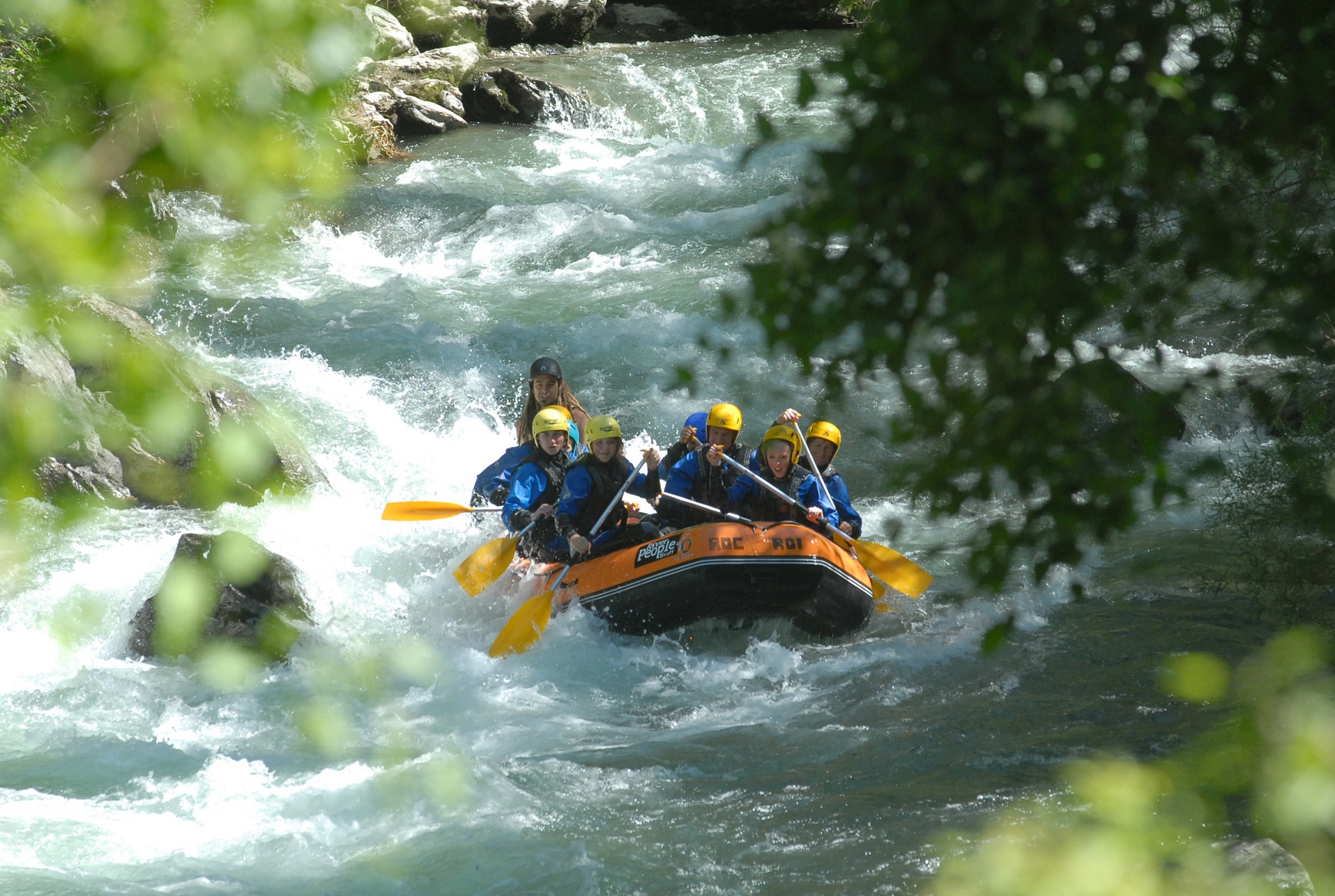 There are lots of ways to enjoy and explore the many wonderful landscapes of the world with your family. From jeep tours, to hiking, mountain biking or even horse riding. However, few of them pack quite the same punch as white-water rafting. Not only is rafting down a river and through rapids a thrilling and adrenaline fuelled experience, capable of bringing a smile to even the hardest to please teenagers, but it is also a great way to create some quality time with your children too. When you are travelling down a river at speed, going around bends and through rapids you really do need to work together, which is a great way to help you to bond with one another with the helping hand of fully qualified guides at the helm and safety equipment to keep you safe at the same time. Moreover, white-water rafting is an activity that is sure to create some very special memories for all the family as well as giving you the chance to discover another side to your chosen destination!
For example, our family holiday to the Pyrenees lets you cover around 14km of thrilling rapids and spectacular scenery in the mountains of Catalonia as you work as a team to guide yourselves down the fast-paced river as well as taking in some of the most beautiful scenery in Europe as you go. It's easy to see why this activity is a highlight for many of our families!
Discover the Pyrenees here
2. High Ropes – Montenegro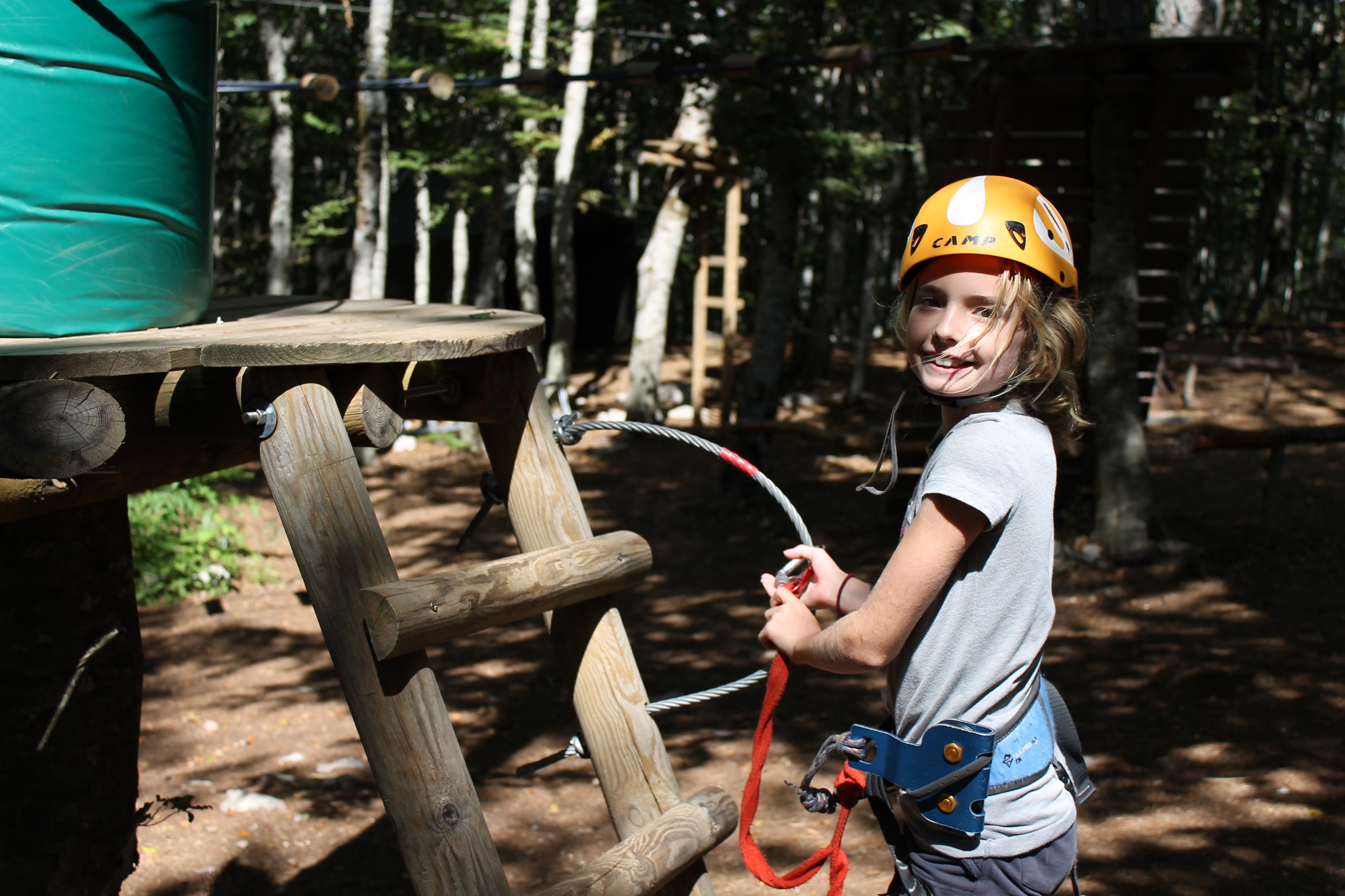 Of course, not everyone wants to get soaking wet in order to get a fix of adrenalin as well as some quality time with their family. If you are looking for something away from the water on dry land that still gives you the chance to get the heart pumping as well as giving you the chance to bond as a family then a high ropes course could be just the ticket. If you are anything like us then you will probably have some fond memories of climbing trees as a kid with your friends or family. Well, it's fair to say that a high ropes course really does take that experience and make it even better and somewhat safer too! From zip wires, rope ladders and various obstacles, a high ropes course really is a tree top adventure that both adults and children are sure to enjoy! Not only will it give you a good workout but it also gives you the chance to test your balance and bravery all with the knowledge that you are all safely strapped into harnesses and hard hats!
For example, our Montenegro escape gives you the chance to explore the beautiful Lovćen National Park from the treetops with various courses to choose from to suit a range of abilities and ages, meaning that both 8-year-olds and teenagers can take part and feel suitably challenged whilst enjoying some spectacular views around them.
Find out about Montenegro here
3. Canyoning – Azores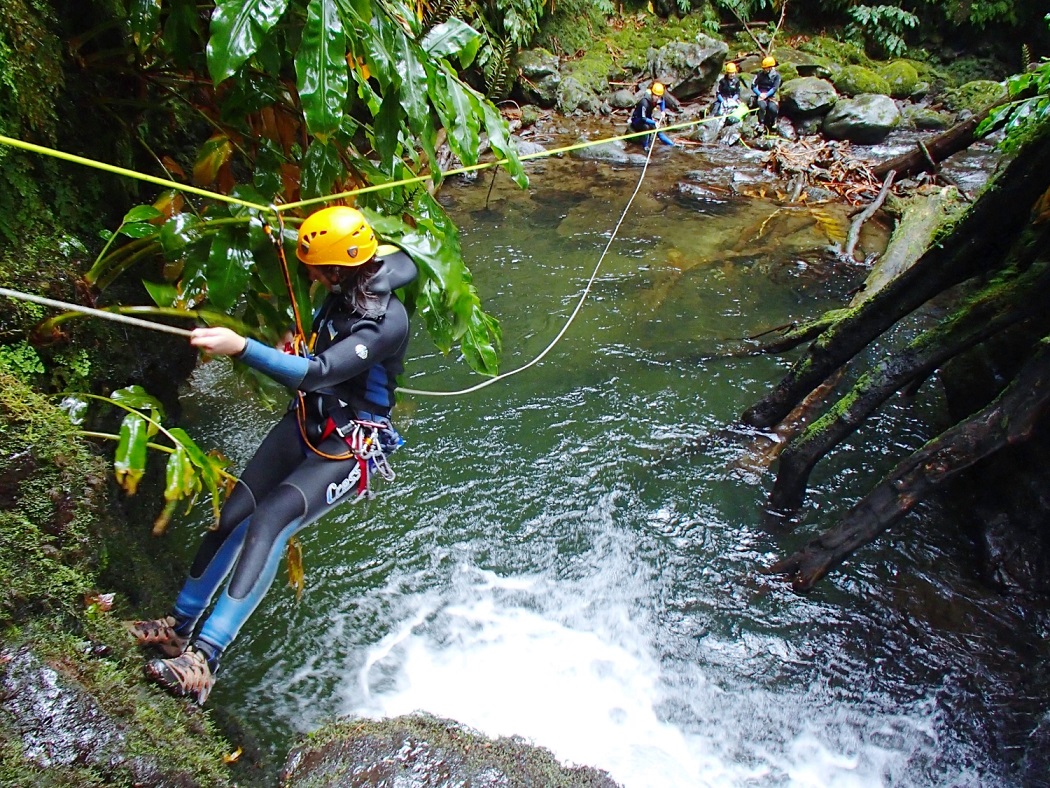 For those of you are that are looking for a really high-octane activity to enjoy with your family this summer, then look no further than canyoning. A mix of swimming, jumping, scrambling, climbing, sliding and abseiling, canyoning really is an activity to get the heart pumping and create some really special memories. Not only is canyoning a great way to have some fun but it also gives you the chance to work together as a family, helping you to spend some real quality time together as you make your way along the river. Canyoning is also great for putting you right in the centre of some truly spectacular scenery that you just wouldn't be able to experience any other way as well as helping you get off the well-trodden tourist routes helping you to experience a different side to your summer destination. With expert guides and safety equipment provided on all our canyoning activities, you will also be able to relax and enjoy your experience safe in the knowledge that you are in the hands of experienced local instructors who are there to help you have as much fun as possible whilst keeping you all safe too.
For example, our holiday to Sao Miguel Island in the Azores lets you discover the remarkable beauty of the Ribeira dos Caldeirões Natural Park as you explore its forests, rivers and waterfalls decked out in hard hats and neoprene. There really is no other way that you would be able to explore this wonderful island in such a unique and memorable way.
Discover the Azores here
4. Mini B diving – Gozo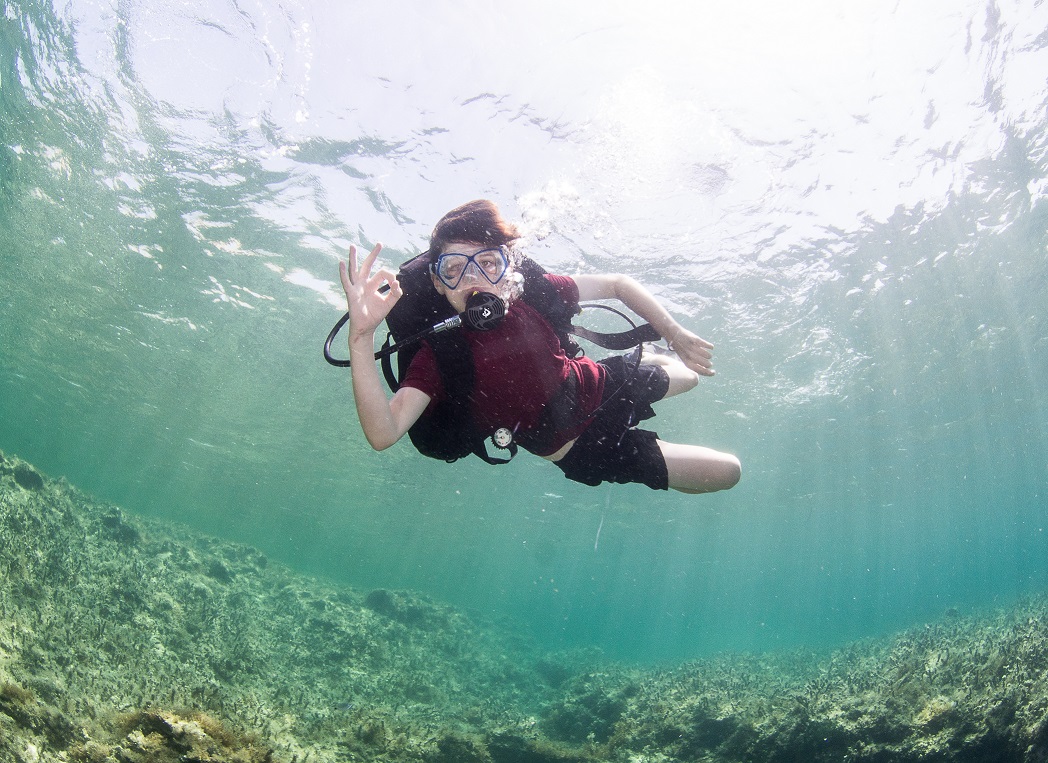 If you are anything like us here at Activities Abroad, then one of your favourite memories from summer family holidays is likely to be the recollections of putting on your snorkel (flippers optional) and paddling around the sea in search of fish and sea creatures with your parents and siblings in tow. Now snorkelling is great fun don't get us wrong but we all know how annoying it can be when water gets in your snorkel or when you see something bobbing along the sand that is just too far away to reach without inhaling a mouthful of water! Well here is where Mini B diving comes in. Unlike conventional diving that requires wetsuits and PADI certificates and hours of training, Mini B allows you and children 10 years old and up to explore the vast marine life on offer for up to 15 minutes at a time with only a doctor's certificate needed! There is no complicated equipment to worry about either as all your scuba gear is packed up into a rucksack, allowing you and your family to explore the seas without worry.
Our island adventures to Gozo lets you experience this incredible activity with your family in a part of the Mediterranean known for being home to some of the best diving sites in the world. Whether you discover some of the wonderful marine life in the seas around Gozo or simply enjoy learning an amazing new activity with your children you are in for a truly special experience that you are all sure to remember for years to come.
Start your Gozo holiday here
5. Cycling – Croatia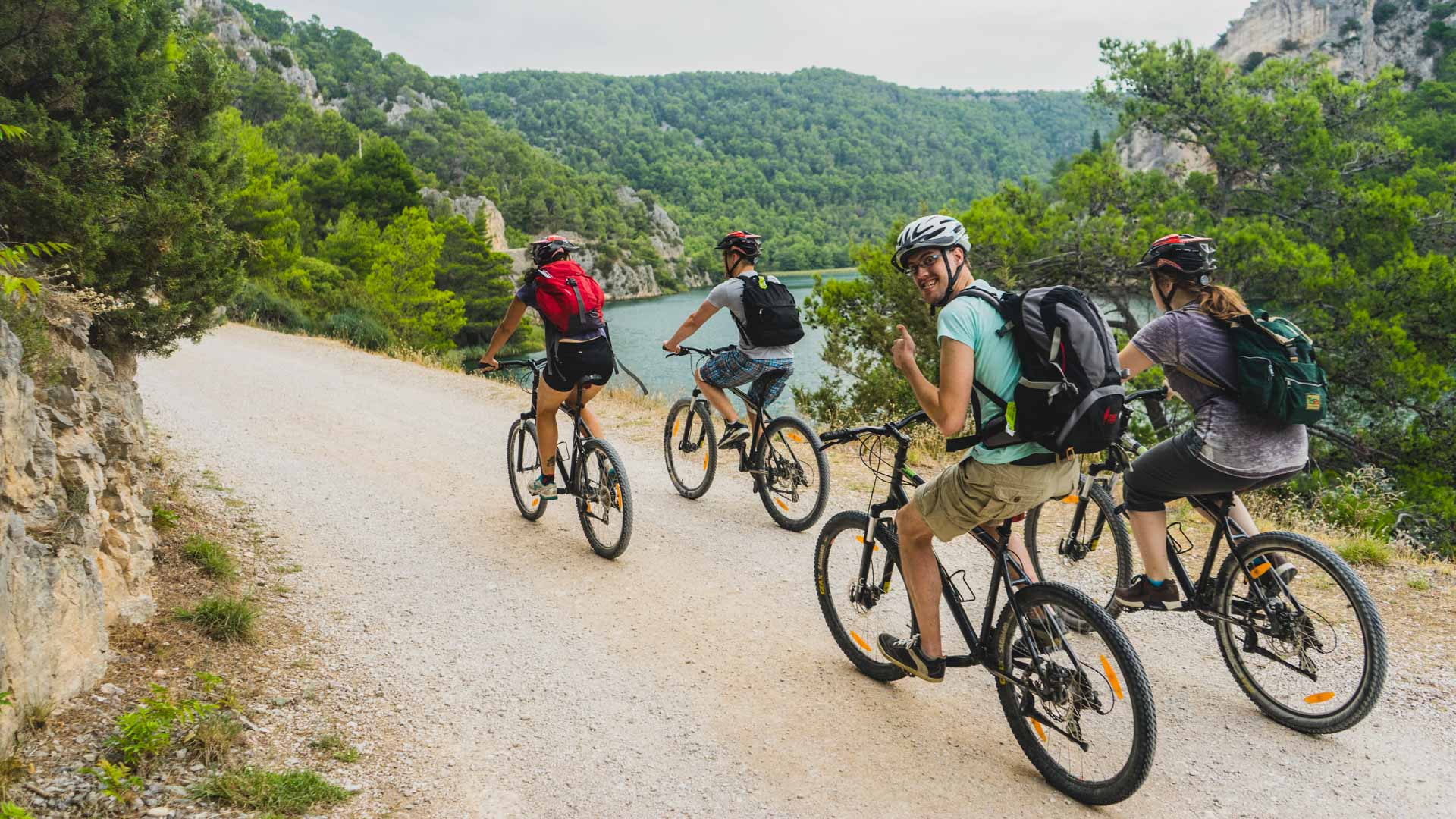 Now if you are looking for an activity a little more suited to your family's slower paced summer escape then we think that cycling could be right up your street. Whether your children are teenagers or are a little bit smaller then cycling offers the chance to explore a range of fantastic destination at a pace that suits you. As well as getting you off the beaten track (quite literally on most of our holidays), cycling also allows you to spend some quality time with one another, cycling also allows you to stop and take in the sights and sounds of your chosen destination that appeal to you, as well as giving you the chance to stop for plenty of photo opportunities and ice cream stops along the way! What is more, unlike some of our other more active experiences, cycling is something that can be done the whole family. For example, our Island Adventure for families with younger children holiday to Croatia gives you the option to have child seats and trailers if required.
Our National Parks Activity Week to Croatia lets you and your family explore 22 miles of the Krka River National Park. Your cycle ride will take you from the 44m high Skradinski Buk waterfall to the forests and shores of Lake Visovac before you are transported by boat to Visovac Island and its incredible Franciscan monastery.
Start your Croatia adventure here
Discover all of our activities here.
---
Photography by Adventure Montenegro, Futurismo Azores Adventures, Raftrek, Pete Bullen