It took only a couple of minutes to get used to the snowshoes and it was so much fun. Our guide showed us a few basic winter skills, which included sourcing a fire and learning important things about the flora and fauna. Making a fire without lighters in the deep snow was a great experience and we'd been rewarded with a hot chocolate that we prepared over the fire. When we arrived back at the lodge we had a delicious salmon soup with fresh bread.
The best way to end a fantastic day in Swedish Lapland.

Snowshoeing is a great activity for the whole family and it brings everyone closer to the beautiful nature. Families can work together in groups and try to be the first to light up a fire in the wilderness.
I was also lucky enough to enjoy a thrilling hovercraft tour, which is probably everyone's dream.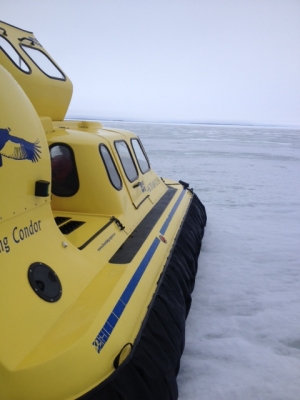 It is a very unique way to explore the region.
We glided over the pack ice and around some small islands. We headed towards the edge of the ice with Goran, the owner of Brandon Lodge, who was our guide for the day. We all got an intercom set and Goran told us a lot about the local area. It was really exciting to walk on the ice close to the open sea. I even saw a seal popping out of the sea to say hello. A nice cinnamon bun and hot chocolate made the day perfect.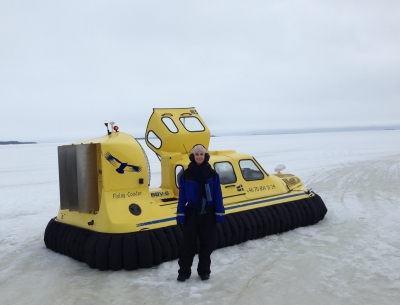 It is definitely an experience that kids will tell their friends about, as it is almost a futuristic way to explore the region.
We stayed at the Brandon Lodge for a couple of days and the cosy cabins provide the perfect family base for an awesome winter trip filled with adventure. Brandon Lodge is located on the edge of the frozen sea and is surrounded by pure wilderness! There is no light pollution, which means that this is a great place to see the Northern Lights as well.
You can just sit with the whole family on the terrace of your cabin and look at the night sky in search for the Aurora Borealis.
---
Discover your winter holiday to Brandon Lodge here